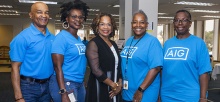 The Minister of Health the Hon. Kim N. Wilson JP MP today commended the American International Group for focusing on the health of their employees at the AIG Wellbeing Fair at their Hamilton, Richmond Road offices.
The Minister said she was pleased that the company recognized that promoting and encouraging healthy lifestyles can make a significant difference in the long-term health of employees.
Attending the fair were staff of AIG's American International Company (AICO), together with employees of other building occupants, including Validus, Granite, AWAC and Ascot.