Thursday, October 11, 2018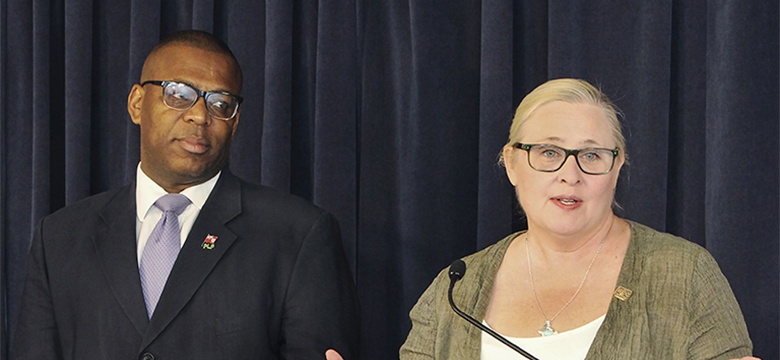 Thank you for joining me today as I introduce the updated Solar Energy Rebate program that offers benefits in the areas of solar electricity and solar water heating.
I am pleased to be joined by Jeane Nikolai, Director of the Department of Energy.
You may be aware of our previous solar technology rebate program that was released in 2010, offering $1 per kilowatt of solar power to all applicants up to $5,000.
While this program was successful in achieving our goal to encourage the uptake of solar energy technologies in Bermuda, the average consumer fell on the higher end of the annual rental value, or ARV scale. 
For those who are not aware of what this means, an ARV is a value given to properties for the determination of land tax. Typically, it is a calculation of the size and amenities of the building that determines the ARV. 
Recognizing the need to assist homeowners whose properties and systems fall on the lower end of the ARV scale, we updated the rebate program to increase the benefit of solar technology installation for these individuals.
This updated Solar Energy Rebate program offers the following for solar derived electricity:
For homeowners with an ARV up to $30,000, a rebate of $2 per watt up to $8,000
For homeowners with an ARV between $30,000 and $65,000, a rebate of $1 per watt up to $4,000 and
For homeowners with an ARV between $65,000 and $120,000, a rebate of $1 per watt up to $2,000.
The rebate program also includes rebates for solar thermal installations, which use the energy of the sun to directly heat water. 
The rebate scheme for solar thermal installations are calculated on the measure of the heat output of the water heater, or megajoule. 
The program offers the following:
For homeowners with an ARV up to $30,000, a rebate of $40 per megajoule per day up to $2,500
For homeowners with an ARV between $30,000 and $65,000, a rebate of $20 per megajoule per day up to $2,000 and
For homeowners with an ARV between $65,000 and $120,000, a rebate of $10 per megajoule per day up to $1,200.
With lending institutions having more appetite for making loans available to homeowners for the express purpose of solar technologies, we believe that this initiative will give incentive to the average consumer to take advantage of this rebate program.
There are several policies around this solar rebate program that should be noted:
Every customer will fill out an application, furnishing basic information including, but not limited to, the customer's assessment number, the intended size of the installation and the name of the installer's company.
Only one solar PV rebate will be available per assessment number. 
For water heating, one assessment number may receive multiple rebates. 
The customer must work through a registered installer who meets set criteria, as per the previous rebate program, and
Rebates will only be given for installations that receive planning approval from Building Control. 
To be clear, there will be no rebates allowed for illegally installed systems. 
In addition to the uptake of sustainable energy in Bermuda, every kilowatt of installed energy brings benefits to our island in other ways:
We are decreasing Bermuda's emissions for a healthier environment.
More currency will stay in our economy by avoiding the purchase of foreign oil, and
The growth of the renewable energy sector grows businesses and creates jobs for Bermudians.
I am encouraged by the work that is being done around this solar energy rebate initiative. I am also encouraged by other work we are doing in the area of conservation and efficiency.
One in particular is that the Department is in the process of rolling out energy efficiency measures to the Bermuda Housing Corporation clients.
As you may know, I am fully committed to ensuring that all Bermudians have access to affordable and sustainable energy, not just today but for years to come.
For more information or questions about this rebate program, you can contact rerebate@gov.bm or visit them online at www.gov.bm/department/energy.