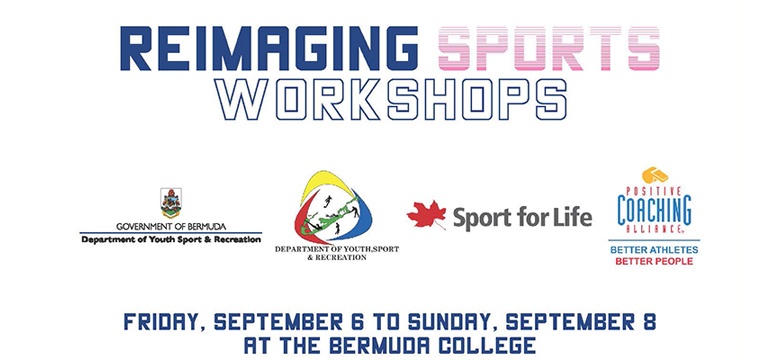 A sports forum featuring some of Bermuda's most recognizable athletes will be held next month.
Shaun Goater, Brian Wellman, Katura Horton-Perinchief, Sullivan Phillips and others will headline the Department of Youth, Sport and Recreation's Sports Conference which takes place from 6th – 8thSeptember at the Bermuda College.
The conference is entitled "Reimaging Sports", and its aim is to provide an opportunity for Bermuda's sports stakeholders to gain knowledge and enhance their role within sport.
The Minister of Labour, Community Affairs and Sports, the Hon. Lovitta Foggo said today, "We believe this will be an exciting event which will offer a number of opportunities for us to understand and appreciate the importance of sports in our community. Some of Bermuda's most accomplished athletes have lent their time to participate in this event and we are offering a wide range of informative workshops.
"We will focus on a number of aspects relating to sports in Bermuda such as coaching, long-term athlete development, athlete recovery, competition restructuring and various seminars specifically aimed at parents of young established or developing athletes.
Minister Foggo continued, "Overall our conversations during this conference will revolve around the role of sports in Bermuda, where it once was, how sports is currently viewed in our community and what needs to be done to develop it further. So, we very much look forward to welcoming interested individuals to this upcoming conference so that they can share in this important discussion."
The Deadline for registration is Wednesday, 4thSeptember, 2019. Registration fee for each workshop is $25.00. For more information contact Jekon Edness at jaedness@gov.bm.
The full line-up of workshops and panel discussions are as follows:
Reimaging Sports Discussion
Second-Goal Parent: Developing Winners in Life Through Sports
Opening remarks w/ Sullivan Phillips
Athletic Scholarship Opportunities in the USA: An Overview
Long-Term Athlete Development: An Introduction
Mastery: Coaching for Peak Performance
Periodization
Double-Goal Coach: Coaching for Winning & Life Lessons
Positive Motivation: Getting the Best from Athletes
Building the Train to Train Adolescent Athlete
Leading your Organization: Developing a Positive Coaching Culture
Competition and Restructuring for Sports Organizations: An Introduction
Becoming a Triple-Impact Competitor