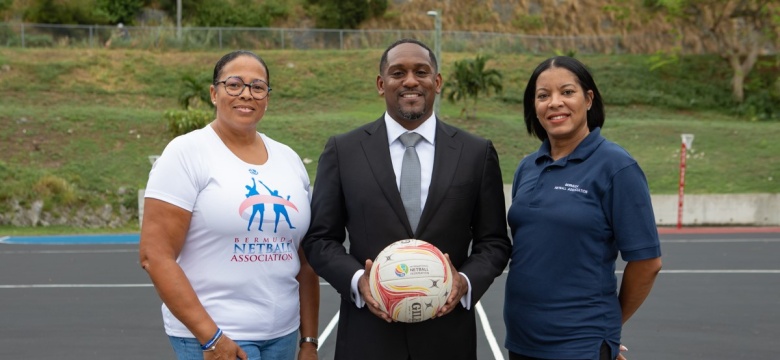 A very special good afternoon to all.
Today, I am honored to be joined by Kimale Evans, President of the Bermuda Netball Association, and Tahkeisha Welch, Secretary of the BNA. It is my distinct pleasure to officially announce the reopening of the Bernard Park Netball Courts after a closure of just over 9 months. This decision was made for health and safety due to the extensive cracks developed in the courts.
In my role as the Minister of Youth, Culture, and Sport, I remained unwaveringly committed to ensuring the safe and timely return of this cherished government-owned facility. I would like to thank the Public Works Department for their invaluable assistance in repairing the cracks. Additionally, we express our appreciation to Fast Services for their meticulous work in
sealing and painting the surface. It's worth noting that the courts have been equipped with a non-slip surface material, a measure aimed at providing athletes with enhanced traction.
Netball holds a special place as one of the premier all-female sports on the island. We are deeply committed to ensuring our athletes have access to a netball facility. Following our National Sports Policy: Sports Matters, specifically Goal #3, which underscores the need to improve access to sports facilities, we are actively engaged in supporting eligible National Sports
Governing Bodies (NSGBs) like the BNA in securing leases for government facilities to foster the development of their sport. We are working closely with the Bermuda Netball Association to transform this vision into a tangible reality.
I eagerly look forward to the resumption of netball activities at Bernard Park. The familiar sound of whistles blowing, and the joyous cheers of spectators will once again fill the air. As teams prepare for the upcoming season opener just a few weeks from now, netball will thrive anew in this park. My greatest aspiration is to witness our National Netball Team attain regional success in the future, all while knowing that their training and access to this facility was made possible through the collective efforts of all who contributed to resurfacing these government-owned courts.
I would like to extend my heartfelt appreciation to the BNA, its affiliates, and all the passionate supporters of this sport for their unwavering patience and understanding throughout this process.
Thank you.
Image