Friday, October 16th, 2020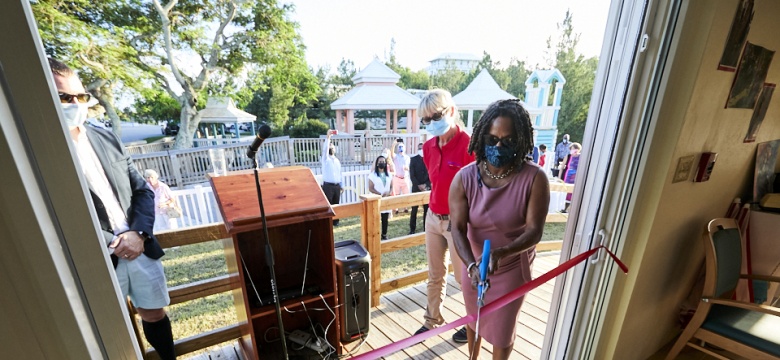 Yesterday evening the Minister of Health the Hon. Kim Wilson JP MP attended the formal ribbon cutting ceremony for WindReach Bermuda's new Adult Day Centre.  
The Centre will serve as a base for their Adult Day Programme which services adults living with Dementia and/or Alzheimer's.
Minister Wilson officially opened the Centre alongside WindReach Board Chair Stewart Ritchie and WindReach Executive Director Tina Nash.
Reflecting on last night's opening Minister Wilson said today, "Since 1999, the caring professionals at WindReach have delivered therapeutic and educational services that enrich the quality of life for individuals living with Special Needs. I was thrilled to attend last night's formal opening of the Adult Day Centre and to be a part of their vision for inclusivity and quality of life for all, throughout the life cycle. I wish to thank them from the bottom of my heart for the quality care and support they provide to some of the most vulnerable in our community."
The Adult Day Programme delivers skilled, person-centred care for:
people living with Alzheimer's or dementia;
older adults looking to remain active & independent;
individuals with a physical disability and/or cognitive impairment & are unable to be alone for long periods of time;
families who are the primary caregivers for a loved one at home & need relief time for daily responsibilities.