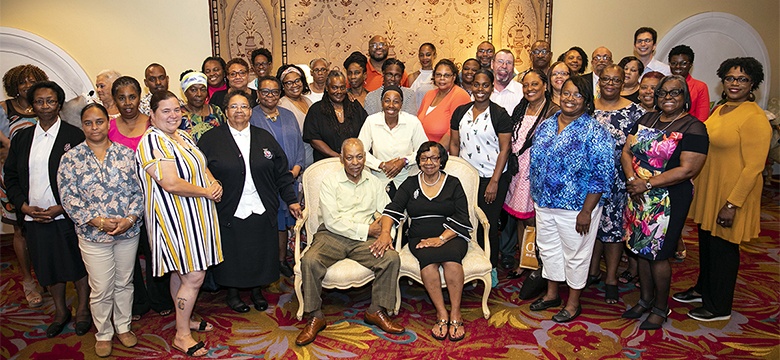 The Department of Child and Family Services recently honoured local foster parents at their annual Appreciation Tea.
The Minister Legal Affairs, the Hon Kathy Lynn Simmons, JP and Senators Crystal Caesar, Jason Hayward, Anthony Richardson and Vance Campbell were present to support the parents honoured during the ceremony. 
Minister Kathy Lynn Simmons said, "The Department of Child and Family Services Foster Care Programme would not be successful without the support of our dedicated foster parents. We salute them for opening their hearts and homes to care for the 80 Bermudian children who are in foster care."
Foster Parents are supporting Bermuda's children in various ways. There are Traditional Foster Parents who care for children who are not related to them; Kinship Foster Parents who care for their relative; Therapeutic Foster Parents are fulfilling the very unique role of caring for children with special needs, and Respite Caregivers perform a vital function and fit well into the puzzle of "the village helping to raise children.
Guest speaker, Shalisa Smith shared from her own personal experience as an adopted child. She stated that she firmly believes in a quote that she heard a long time ago, "You were born with the ability to change someone's life. Don't ever waste it."  Ms. Smith added, "I firmly believe that we are purpose-filled.  We have to learn to look at the small blessings in life and accept the things we cannot change or control." 
Ms. Merle Doars was honoured for her long-term commitment of nearly 40 years serving as a foster parent.  She has raised five foster children.  In accepting the honour, Ms Doars said, "Although the journey has been filled with trials and tribulations, I am blessed and thankful for having the opportunity to care for so many children."  Ms. Doars explained that she is retiring from Foster Care now that her last foster daughter is 18 and currently overseas on an educational experience in Hong Kong.