Thursday, January 3, 2019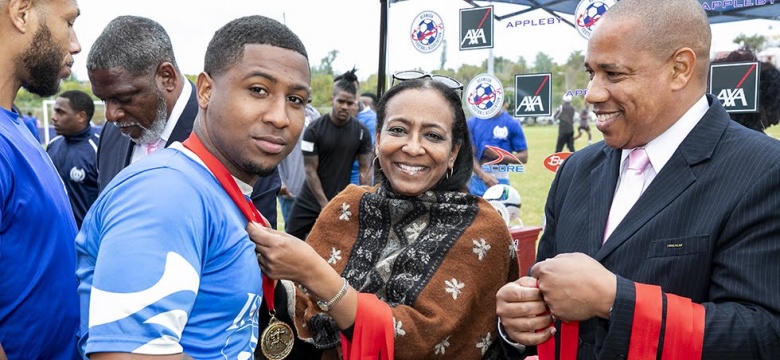 On New Year's Day Premier the Hon. David Burt JP MP joined the Minister of Labour, Community Affairs and Sports the Hon. Lovitta Foggo JP MP at Somerset Cricket Club to watch the Southampton Rangers successfully defend the First Division Shield with a win over Hamilton Parish.
"I want to congratulate both teams on an exceptional game," said Minister Foggo. "Congratulations to Rangers' Jarazhino Bassett and Donte Brangman and also to Hamilton Parish's Macquille Walker for their goals scored during the game. Well done to Rangers for coming out on top! It was an enjoyable game to watch."
Minister Foggo also cheered on both the PHC Zebras and the Dandy Town Hornets who battled it out for the Friendship Trophy which saw the PHC Zebras beat the Dandy Town Hornets 5 to 2.
"The PHC Zebras were definitely a force to be reckoned with this year," said Minister Foggo. "With four goals scored in the first half, it certainly made for exciting spectating - particularly the header from Rakeem DeShields which set the tone for the rest of the match."