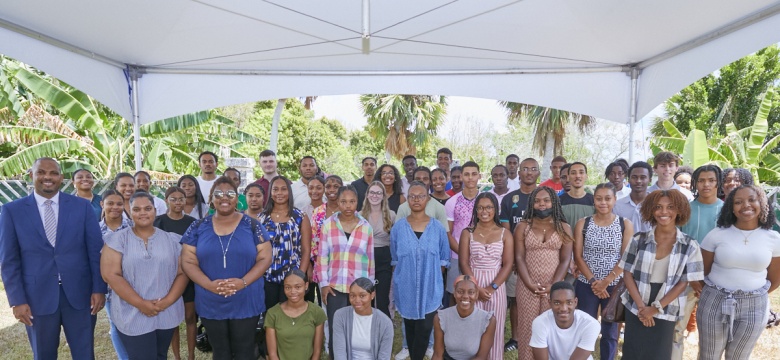 Yesterday (10 August), The Department of Workforce Development's 2022 Summer Employment and Internship Programmes concluded with a reception celebrating 135 participating students.
The Summer Employment Programme assists students in developing their career goals by connecting work experiences to academic learning. This year's programme began in June with 83 students placed in internships based on their interests within Government, private and non-profit sectors. Work assignments are professional and based on entry-level job descriptions. The students are encouraged to use the opportunity to develop further their leadership and decision-making skills and career and work competency standards. For their efforts, the students received a $6000 stipend over the ten weeks to assist with their educational and living costs.
Summer Employment participant Mr Wendell Tucker said, "I've enjoyed working with the team at Youth and Sport. It allowed me to use the skillsets I learned in college in a work environment. I have also received additional skills and experience that will assist me in the workplace when I return from completing my studies. I would encourage others to apply as this has been a great experience."
The Summer Internship Programme began in July and exposed 52 high school students to the workplace and potential career pathways over five weeks. These experiences start the journey for young people as they transition from the classroom into the workplace. This programme supports a warm transition from school to the workforce.
Ms Brianna Smith, a participant in the Summer Internship Programme at Ultimate Imaging, said, "I am very grateful for the opportunity this programme provides. The team at Ultimate Imaging embraced me and included me in all aspects of their day-to-day operations. The network and support were great."
The mission of the Department of Workforce Development is to develop a resilient workforce and support a sustainable and stable community. The summer employment and internship programmes are vital to fulfilling that mission. 
Minister of Economy & Labour, the Hon. Jason Hayward said, "An important part of Bermuda's Youth Employment Strategy is supporting our youth by providing experiences critical to their future success. To that end, the summer employment programs are a springboard for our young people to gain valuable work experience to prepare them for entering the workforce."  
Please visit the Department of Workforce Development for more information on the Summer Employment and Summer Internship Programmes.