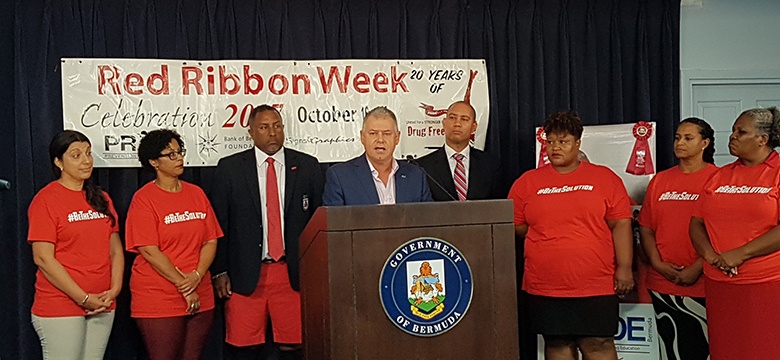 I am pleased to be here today to launch PRIDE Bermuda's Red Ribbon Week which serves to further highlight the detriment that drug abuse and unhealthy behaviour can cause to a society.
Young people are our most valuable resource...and as a community we must protect them. Investment in the early development of our children who are affected by the breakdown of the family structure as a result of substance abuse is of urgent social importance to this community.
The BerDIN 2016 Report has revealed that of those students in M2 to S4 that were surveyed, 71% reported use of at least one drug in their lifetime.  In addition, the fact that 13% of the students have been in a car driven by someone who has been drinking alcohol is a clear indication that our children need protection.
Studies show that evidenced-based programs and services such as those provided by PRIDE Bermuda can have positive effects on the likelihood of a young person's choice to avoid turning to drugs or anti-social behavior. That's why the work that PRIDE Bermuda does year in and year out is so critical for our young people. We have to reach and teach our children at a young age so that they are not pressured or influenced into engaging in drug and alcohol use.
Investments in programs such as PRIDE are cost effective.  U.S. data tells us that for every $1 spent on prevention education and programs, $18 is saved that would have been spent on dealing with the ill effects that drug abuse has on both the individual and society. For example, medical expenses due to mental and physical illness, crime and child and family services - to name a few.
In Bermuda, we have seen the effects and the end results of what a lifetime of substance abuse can have on individuals in our community.
Whether you are a parent, a guardian, a counsellor, a teacher or just a concerned member of the public – you need to be part of the solution of making a difference in the lives of our young people by deterring them from involving themselves in drugs and alcohol.
As parents in particular, we must appreciate the importance of talking with our children about alcohol and drug misuse.
I encourage us all to make talking about drugs a part of our general health and safety conversations with our children and let's join with PRIDE Bermuda in growing stronger so that our children can be drug free.
The Ministry of Social Development and Sports is part of the solution for a drug-free Bermuda.
Thank you for inviting me today, and I wish PRIDE Bermuda much success in their awareness efforts.