Thursday, January 18, 2018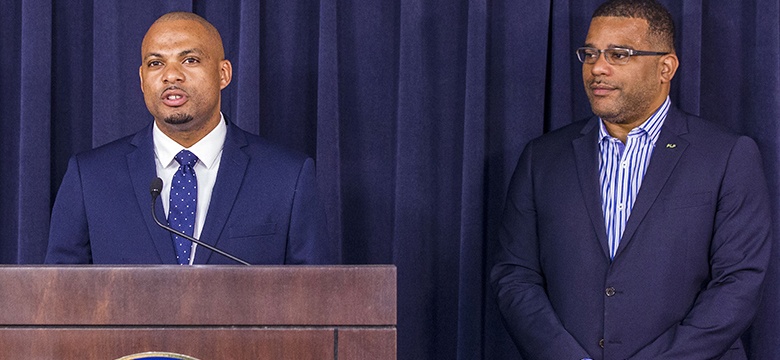 Good Afternoon:
The Ministry of Education and Workforce Development has identified six (6) Strategic Priority areas that will improve Bermuda's workforce development system:
Employer and Industry Engagement
Alignment of the Workforce Development System
Creation of Career Pathways
Development of Youth Workforce Programmes
Universal Access to Education, Training and Career Services
Government Resources and Funding
The strategic priorities were constructed to be intentionally broad to encompass the scope of the workforce issues in Bermuda.  Not only will the Working Group consider today's problems, but will also build a plan for the future. This can only be done if we align all our workforce resources into a comprehensive plan.
The primary functions of the Workforce Development Plan Working Group we be to:
Review the Strategic Priorities identified by the Ministry and develop operational and implementation plans that are aligned to the Strategic Priorities.
Assess the current workforce development system and recommend ways to reduce duplication of services and improve efficiencies in the system.
Make recommendations for legislative changes pertaining to the creation of a Workforce Development Board.
Prepare a report for submission to the Minister of Education and Workforce Development.        
In addition to the Working Group, members of the business community will be asked to participate.  The Workforce Development Plan cannot be successful without the involvement of business and industry at all levels.  Through a series of consultation meetings employers, entrepreneurs and business organizations will be asked to contribute their ideas to improve the workforce development system in Bermuda.
Between 2008-2016, Bermuda experienced a 17% drop in the number jobs.  Unemployment was at 7% in 2015, up from 2.1% in 2004.  The highest unemployment is among young people between the ages of 16 and 34.  The public sector, the largest employer of Bermudians has cut its workforce by 12% since 2010.
We need to find new ways to reach unemployed and underemployed workers, and will look at using technology and other means to respond rapidly to the needs of all Bermudians.  Our plan will seek to offer not a hand-out, but a hand up, to improve the economic stability of our people.
We know that Bermuda is facing an aging workforce, and a declining birthrate.  We see many of our young people leaving to take off-island jobs.  We need to develop a plan that will unlock job opportunities here in Bermuda; jobs that lead to fulfilling careers with a future. 
Many well-paying jobs are going unfilled, or are not being filled by Bermudians because of the perception that they are low-skilled and/or low-wage.  Many of these jobs do not require a college degree, but do require post-secondary training.  Employing our youth is critical to success.  We need to build a pipeline from early education through post-secondary to give our young people exposure to emerging industries and new career opportunities. 
The Workforce Development Plan Working Group will also partner with Valarie Palamountain who will assist us with the development of the plan.
Valarie Palamountain was invited to Bermuda through the Fulbright Program -- the U.S. government's flagship academic exchange program -- by the Department of Workforce Development who's Officers participated in an earlier professional exchange program that was sponsored by the U.S. Consulate.   
With over 20 years of experience in project management, Ms. Palamountain has implemented workforce development systems associated with economic development and educational programming standards and has experience in career path development and business systems analysis for private, non-profit and public sector organizations.
Thank you