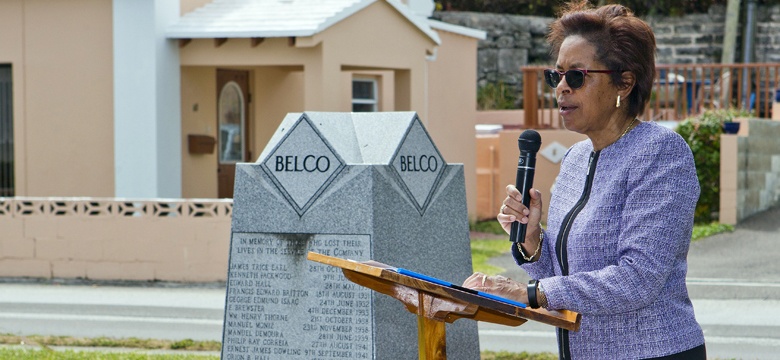 Good morning everyone,
Today is World Day for Safety and Health at work. I am here today to acknowledge the important work done to ensure the health and safety of workers in Bermuda and around the world, and also to commemorate those who have lost their lives in industrial accidents.
It is estimated that over 2.3 million fatalities and 300 million accidents causing injuries occur in the workplace each year. What cannot be estimated is how loved ones are affected by the loss of a breadwinner or the impact an injury can have on an individual and his or her family.  Those costs are inestimable.
One of my Ministry's very important roles is occupational safety, and monitoring adherence to health regulations. It is vitally important that our workplaces are safe and our workers' safety is considered as people go about their daily tasks.
Recently there are signs of increased activity in construction and business generally.  We have new hotels under construction or planned, the America's Cup event on the horizon and our new airport terminal's construction is officially underway. While this uptick in activity is welcome, it does come with risks and hazards.
Tragically, we have already seen one worker fatality this year. For each fatality, there are many more serious and debilitating accidents, and occupational conditions that could lead to ill health. There are also dangerous occurrences or near misses that are not known, except to those involved.
Today's theme is the collection and utilization of reliable occupational health and safety data. I cannot overstress the importance of having reliable data.  The Ministry realizes that knowing which types of accidents are happening allows us to tailor our training, public awareness and inspections to look for ways to prevent these particular dangers. It is a matter of forward planning and it is essential. Data allows us to set priorities and measure progress.
Each business in Bermuda must submit an annual accident report and we have made that easier by posting that form, which is editable online, on the Government website under environmental health.
We have considerably improved our return rate for annual statistical reporting of accidents in Bermuda, and plan on increasing our database capacity to better use our safety data to enhance our preventative work in those sectors with the most incidents and the greatest safety needs.
It's really very simple. Reliable data will help save lives. That's why compiling and using reliable data is so important.
Trends including the increasing complexity of diagnostic and treatment equipment for humans and animals, and security requirements at our ports of entry are forcing all of us to focus on more diligent occupational safety and preventive health measures.
Self-inspection or third party inspections are increasingly necessary to ensure we are meeting international and industry standards and best practice.
Because I am aware of how important it is to monitor health and safety issues, I was pleased that Mr. Denton Williams, S.V.P., Ascendent Group and C.O.O. of BELCO accepted the role of Chair of the Safety and Health Advisory Council, which will advise my Ministry on Bermuda's Safety and Health matters.
In our wider public health role, we are calling on all employers, large and small, to follow the example of companies such as BELCO by introducing or enhancing a strong preventative safety culture. This is the goal for all of Bermuda, to keep all our workers, residents and visitors safe.
While this is a day to be mindful of the Health and Safety of workers, it is my sincere hope it will stay in the forefront of people's minds for the other 364 days of the year.
Thank you.