Wednesday, September 14, 2016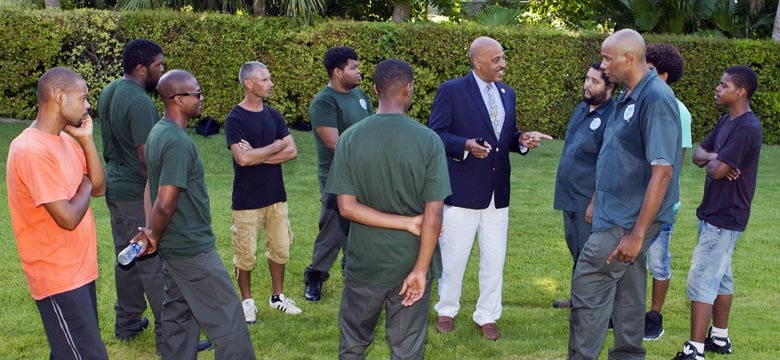 Minister of the Environment, the Hon. N. Cole Simons, JP, MP, met with the latest group of trainees enrolled in the Skills Development Program run by the Department of Parks.
The Skills Development Program was officially launched just over three years ago.  It provides an excellent training and development opportunity for young people between the ages of 19 and 25 who are interested in learning about horticulture and the trade of landscaping.  The trainees, who have completed about two months of their four month program, are currently helping the Department of Parks groom sections of the Railway Trail.
Since its launch, the Skills Development Program has achieved much success and the Department of Parks is grateful for all of the support that has been given to this initiative. Last year, 16 of the participants landed part-time jobs and four received full-time employment. In June, a further ten participants graduated from the program.  All participants are unpaid and receive only a small stipend during their training.
Minister Simons said: "I had the pleasure of attending the graduation of the previous class in the June. I was so impressed with this program and the commitment of both the Parks team and the students that I wanted to support the new participants.  I hope to see all of them again at the graduation ceremony in December".
The training course includes ten modules which have verbal and hands on assessments at the end of each module to ensure the participant has learned the material. Examples of the modules are;
Plant pruning
Pest management
Plant identification
Spraying
Propagation
Ground Preparation and planting
Hand tools
Operation and maintenance of small equipment
The Skills Development Program offers structure, training and support as well as life skills training and opportunities for young men to showcase their potential and talents. The Parks Department partners with the Department of Court Services, and sponsors include the Bermuda Garden Club and Tokio Millenium.