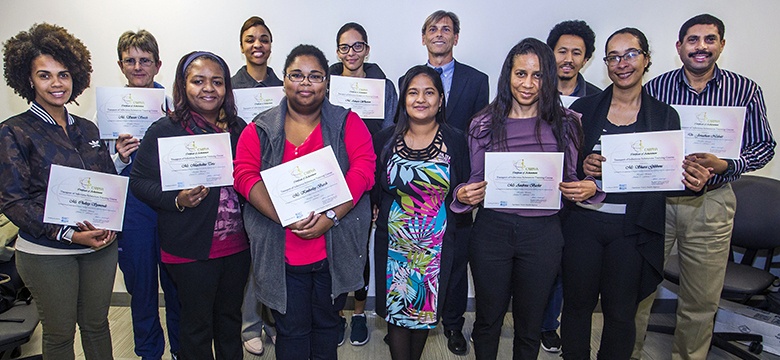 Bermuda is now better prepared to ship clinical, animal or environmental specimens to international laboratories after a two-day training session from the Caribbean Public Health Agency (CARPHA) last week.
From time to time, specialized laboratory testing of specimens is required but is not available in Bermuda. For example, in the scenario of a suspected Ebola case, laboratory testing of clinical specimens would need to be performed overseas. Making certain that there is a viable way to send suspected infectious material abroad is a vital step in Bermuda's public health preparedness and our compliance with the international health regulations.
Postal, airline and other transport industry personnel require assurance that their safety and health is not at risk from packaged materials and specimens, otherwise they are unlikely to handle and transport shipments.
The packaging of infectious material for transport is therefore regulated and there are international requirements intended to minimize risk and the potential for unintentional exposure at every step of shipping.  Packaging is carefully designed and installed to ensure the integrity of the materials and to facilitate timely and accurate processing of specimens. Shippers at origin have a duty to ensure packaging and shipping conditions meet regulatory requirements to protect transport industry personnel and public health in general.
Mrs. Sacha Wallace-Sankarsingh, Biorisk Manager, at the Caribbean Public Health Agency (CARPHA) trained local officers* in an intensive two-day course (31 January and 1 February, 2018) hosted by the Department of Health, in order to certify local representatives are competent in classification, packaging, marking and labelling, documentation and handling required for the shipping of packages containing infectious substances.
Participants studied the International Air Transport Association (IATA) Infectious Substances Shipping Guidelines manual, learned the key issues involved in the shipping of infectious substances, including emergency procedures.
The workshop not only facilitated networking and collaboration among Bermuda-based clinical, environmental and animal laboratory colleagues and managers, it also assured that participants could apply the technical skills of shipping infectious substances in compliance with applicable regulation and promoted safe and efficient handling practices in their labs and workplaces. 
The following officers* received training:
| | | |
| --- | --- | --- |
|   | Name            | Organisation |
| 1 | Susan Smith | Department of Health |
| 2 | Sakina Usher | Department of Health |
| 3 | Jason Iris | Department of Health |
| 4 | Andresa Bashir  | Department of Health |
| 5 | Chalsey Symonds | Department of Health |
| 6 | Marshalita Tota | Bermuda Hospitals Board |
| 7 | Dr. Jonathan Nisbett | Department of Environment and Natural Resources |
| 8 | Shara Gibbons | Department of Environment and Natural Resources |
| 9 | Amaris Wharton | Department of Environment and Natural Resources |
| 10 | Kimberly Burch | Department of Environment and Natural Resources |