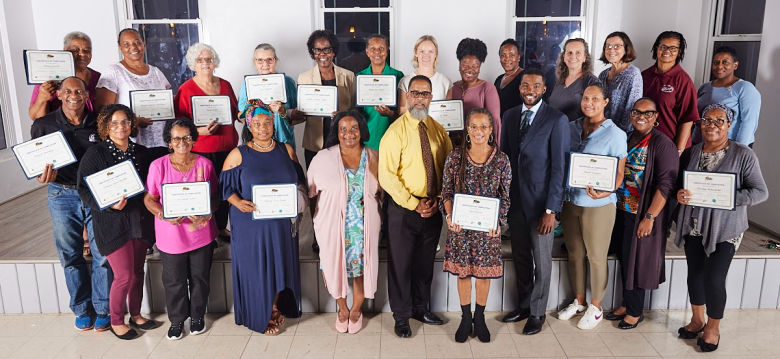 The Department of Health recently held the Grow Eat Save Gardening Workshop Graduation. 22 graduates persevered and completed the course.
Members of this graduating class will enjoy exclusive access to alternate garden plots until August 2024, providing a full year of expert guidance on planting and harvesting. It's important to highlight that this class remains accessible to the public at no cost. It is a testament to the strong support of facilitator/instructor Chaplin Dr. Kevin Santucci and the commitment of volunteer plot leaders who have evolved into expert teachers.
The Minister of Health, Kim Wilson, participated in the workshop and was among the graduates, "I was pleased to be part of the latest gardening workshop cohort! The experience was incredibly enriching. I gained a wealth of knowledge about the earth and soil, had fun, and relished every moment of engaging with the plot leader and fellow team members.
"Grow Eat Save has energized all participants, boosting their daily consumption of fruits and vegetables to meet the crucial goal of five servings daily. This is essential for preventing, alleviating, or managing chronic diseases impacting the people of Bermuda."
In April 2023, 94% of individuals who completed the Grow Eat Save program reported increasing their efforts to include more fruits and vegetables in their diet. Among them, 69% now regularly consume five or more servings of fruits and vegetables, while 25% are actively working toward reaching that goal.
Minister Wilson continued, "Community gardens are known to break down barriers by improving society's acceptance of and perception towards fruits and vegetables.
"The Ministry of Health is dedicated to providing the people of Bermuda with the tools they need to maintain good health and to move our community towards a sustainable future."
The program provides outstanding support from facilitators, including the National Trust, the Department of Environment and Natural Resources, and the Extension Program from the University of Tennessee. These dedicated individuals generously contribute their time to teach everyone the most effective gardening methods. Grow Eat Save is proudly sponsored by the Department of Health, the Bermuda Agricultural Group, the Department of Parks, Bermuda Green Thumb, Animal and Garden, and Water Trucking Services.
An extra gardening class has been scheduled via WebEx for Tuesday, November 28th, at 5:30 pm. Past workshop participants interested in attending can register by emailing nutrition@gov.bm, providing your phone and email address.
Anyone interested in joining the next Grow Eat Save gardening class in September 2024, can email a request to nutrition@gov.bm, providing your phone number and email address.