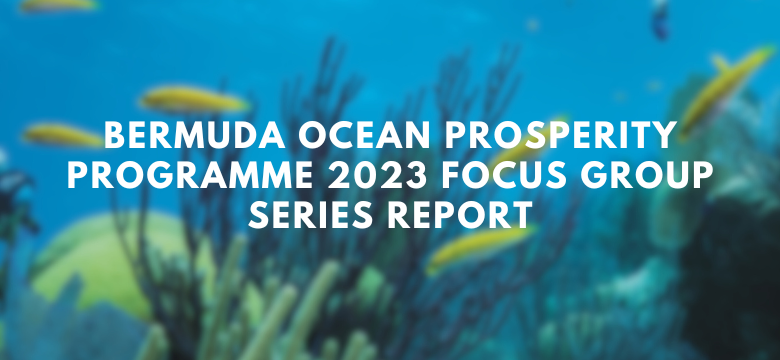 This spring, the Bermuda Ocean Prosperity Programme (BOPP) and the Bermuda Government's Department of Environment and Natural Resources hosted a series of focus groups to provide stakeholders with a long-term forum in which to discuss and provide feedback on key components of the Draft Blue Prosperity Plan.
The Draft Blue Prosperity Plan is a holistic approach to managing and protecting Bermuda's ocean. It consists of a Marine Spatial Plan and a Blue Economy Strategy that work together to create jobs, grow local investment and business opportunities in marine industries, and support the long-term sustainable use of ocean resources.
The focus group sessions included stakeholders that have been closely involved in creating the Draft Blue Prosperity Plan since public consultation began in 2020. Individuals from industries and organisations representing a variety of sectors across Bermuda—including conservation, economic development, education, fishing, tourism, and utilities—had the opportunity to discuss and learn about each other's ocean-related priorities.
Over six weeks in April and May, the focus groups brought together 53 participants, with some attending a total of 12 hours of meetings. Sessions included individuals from:
•             BOPP's Ocean Villages, stakeholders that have a specific interest and perspective regarding Bermuda's ocean environment;
•             Concerned citizens;
•             Organisations involved in the BOPP process;
•             BOPP's Steering Committee; and
•             BOPP's Science Committee.
The focus groups were designed for stakeholders to explore and share their priorities, opportunities, challenges, or gaps and identify aspects of the Draft Plan they felt needed clarification. The topics addressed in each focus group represented areas of the Draft Plan that received significant interest during public consultation.
The first three focus group sessions covered topics related to maritime enforcement, fisheries licensing and monitoring, and the blue economy strategy. The next two sessions focused on the proposed nearshore marine protected area (MPA) network and working to address key stakeholder concerns. A sixth session was for participants who requested more time to continue their work from the previous week. It involved using an online mapping platform and interactive data layers to explore and provide feedback on alternatives to the proposed MPA network.
An important new data set was incorporated into the mapping platform to address specific concerns the commercial fishing sector raised last year. Many fishermen felt that the complexities of their industry, such as the various gear types used and species targeted, had not been adequately considered in designing the proposed MPA network. Bermuda's Ocean Use Survey was reopened to commercial fishermen from November 2022 to March 2023 to resolve this issue.
Bermuda's Ocean Use Survey, originally conducted from September 2020 to February 2021, provides data on how the island's residents use and value the island's marine spaces and resources. The new data collected from commercial fishermen during the subsequent survey represent input from 60% of Bermuda's full-time fishermen and 29% of Bermuda's part-time fishermen. The updated Ocean Use Survey offered valuable information for consideration during the focus groups and provided more detailed data for the computer model used to design Bermuda's MPA network.
A report summarising the six focus group sessions is available to view online. As a next step, feedback and insights from the focus groups will be given to the BOPP Steering Committee and technical experts to determine how they might inform the next iteration of the Blue Prosperity Plan, which is due out later this year.
The information shared during all six focus groups is also available online. All are invited to visit the BOPP website, explore the priority areas, and learn more about how the updated Blue Prosperity Plan will benefit Bermuda today and ensure a prosperous future.