Wednesday, January 12th, 2022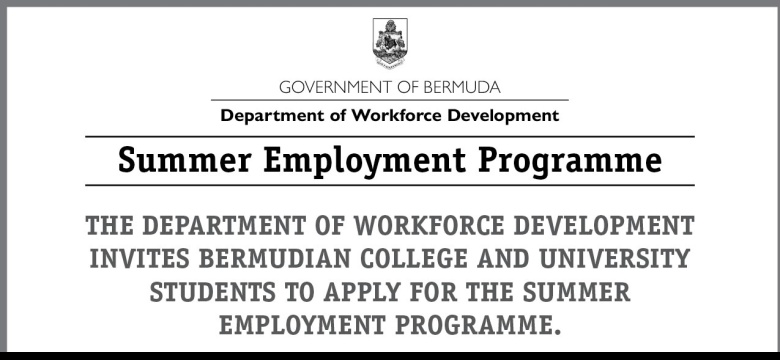 The Department of Workforce Development invites college and university students to apply for the 2022 Summer Employment Programme.  
Internship applicants must hold Bermudian status and be enrolled full time at an accredited college or university with a minimum GPA of 2.5.
To register, please visit www.bermudajobboard.bm and create a candidate profile. After creating your profile, select "Looking for Summer Student Position" under Current Job Status. Applicants should create a candidate record and attach their cover letter, resume, transcript, two written references, and verification of full-time enrolment under Supporting Documents.
Summer 2021 participants need only submit full-time enrollment verification, transcripts, and a current resume.
"This programme continues to be an excellent opportunity for young students to earn an income and gain industry experience while still completing their education", said Minister of Labour Jason Hayward. 
"Without the dedicated team at the Department of Workforce Development and the many private and non-profit organisations that help provide these employment and learning experiences for our youth, this would not be possible. And so I thank you for your continued commitment to our youth."
"As part of Bermuda's Economic Recovery Plan, the Youth Employment Strategy and National Jobs Strategy aims to increase opportunities for the training and development required to equip Bermudians for the current and future world of work."
"To achieve this, we must all continue working together to ensure that every Bermudian that can work has the necessary training and development to secureemployment in their home country."
For additional information, phone 297-7714 or emailsepinfo@gov.bm with "Summer Employment Programme" in the subject line.
The deadline for applications is 15 February 2022.