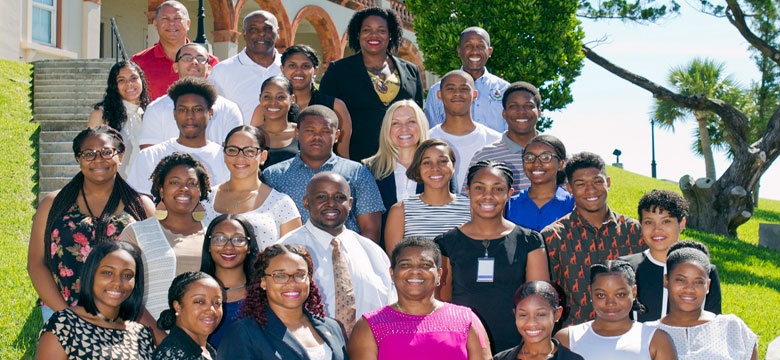 At a brief ceremony held yesterday, the Minister of Home Affairs, the Hon. Patricia Gordon-Pamplin, JP, MP presented scholarship awards to the Department of Workforce Development 2016 scholarship recipients. The Ministry of Home Affairs awarded funding for 34 students studying at The Bermuda College and in overseas universities.
This year's recipients are furthering their studies in Hospitality/ Culinary Arts, Health Care/ Nursing/ medicine, Construction/ Engineering/ Automotive, Business/ Mathematics, Cyber Security/ Forensics/ Counter Fraud and Marine Teaching. It should be noted that scholarships are contingent upon persons meeting the minimum GPA requirements of 2.67 locally and 2.7 for overseas (B- equivalent) per term/semester.
The Department offered funding in three categories, they are:
Overseas Funding - Up to $10,000.00 annually for tuition purposes only and may be provided for the initial length of the programme.
Local Funding - Full tuition per semester. Presented to persons to attend various local institutions.
Professional Development - Recipients are eligible to receive 50% of tuition up to, but not exceeding $5,000.00 for a maximum of one year. This Award remains open all year round and is for persons currently working and who are looking for some financial assistance towards their professional development.
Pictured with Minister Gordon-Pamplin are Work Force Development training officers and the scholarship recipients: 
Jahkia Bolin, Bermuda College, Associate in Science (Nursing)
Jordan Johnson, Bermuda College, Associate of Science (Computer Information Systems)
Theresa-Lynn  Santucci, Bermuda College, Associate in Science (Nursing)
Tryrone Pedro, Bermuda College, Diploma in Culinary Arts
Olievia Martins, Bermuda College, Associate in Science (Nursing)
Angela Sweeting, Bermuda College, Associate in Science (Nursing)
Shanae Seaman, Bermuda College, Associate in Science (Nursing)
Jahru Edmead, Bermuda College, Associate of Arts
Jaidah  Bailey, University of Nevada Las Vegas, BSc in Hospitality Management
Keri Brangman, New England Institute of Technology, Associate Degree in Surgical Technology (CST)
Tabia   Butterfield, Seneca College, Ontario College Advanced Diploma
Justine Dzofonoo-Burch, New England Institute of Technology,Bachelors in Cyber Security & Network Engineering
Erin Greig, Warsash Academy, OOW Unlimited Honors in Nautical Science
Wesley Hall, University of the West Indies, Master of Arts in Teaching
Niambi Landy-Philpott , Acadia University, BSc. (Mathematics and Statistics)
Cholae Martin, University of Nottingham, MPharm
Comori Matthew, New England Institute of Technology,Mechanical Engineering
Kobe Richardson, Purdue University  Building Construction Management/Field Engineer
Sajni Richardson, Johnson & Wales University, Culinary Arts & Food Service Management
Jessica Richardson, Loughborough University, Mathematics Education
Ezzarha Shakir, Oxford Brookes University,   Nursing
Ranisha Simmons, Mount Saint Vincent University,  Bachelor of Business
Alexis Smith, Leeds Beckett University, BSc (Hons) Computer Forensics and Security
Vernon Symonds-Dill, Niagara College, Mechnical Engineering Technology (Co-Op)
Shiloh Todd, Johnson & Wales University, Bachelor Degree in Restaurant Management
Janay Trott, Keele University, MPharm
Kayla Williams, International Culinary Institute of Switzerland, BA (Hon) Culinary Arts
Stephanie Wright, Sheffield Hallam University, BSc. in Nursing
Shaunte' Young, Mercy College, Bachelor of Science in Veterinary Technology
Kenneth Bartram, University Portsmith, BA Security Management
Murrinda Bailey, Bermuda College,  Nursing                 
Jahru Edmead, Bermuda College, Assoc. Arts         
Kyrstal Foote, Bermuda College,  Nursing               
Najah Garcia, Bermuda College, Nursing