Friday, January 8th, 2021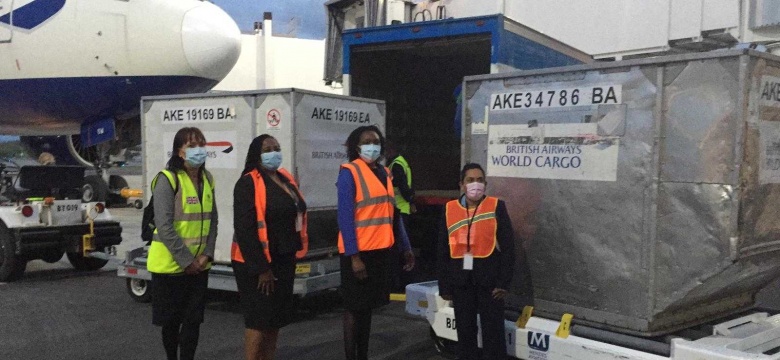 Minister of Health, the Hon. Kim Wilson, JP, MP, this evening announced the first shipment of the Pfizer-BioNTech vaccine has arrived on the British Airways flight from London.
Minister Wilson stated, "The first shipment for 9,750 doses of the COVID-19 vaccine arrived, as scheduled, on the British Airways flight. The Department of Customs paperwork has been completed and the vaccine is being immediately taken to a secure storage facility."
"I must thank Government House, on behalf of the Government of Bermuda, for their efforts that enabled Bermuda to receive this shipment. I am grateful for the Governor's support and for the assistance of the UK's Foreign, Commonwealth and Development Office.
Governor Lalgie said:  "I am pleased that the UK has provided these 9,750 doses of the COVID-19 vaccine and equipment free of charge in order to support Bermuda's public health and economic objectives.
"I am delighted that Bermuda is one of four UK Overseas Territories to receive a share of the first batch of vaccines. The UK remains committed to sharing a proportionate amount of the vaccine in its possession with the overseas territories and I am confident that more will be provided soon. This is a real demonstration of the modern relationship - made possible by the collaboration between Government House and the Government of Bermuda in service to the people of Bermuda."
Minister Wilson continued, "The Pfizer vaccine has been approved for use in the UK by the independent Medicines and Healthcare Products Regulatory Agency (MHRA), in the US by the US Food and Drug Administration (FDA), in Canada by Health Canada, in Europe by the European Medicines Agency, in Singapore by the Health Sciences Authority and by the World Health Organization.
"The Ministry of Health will begin administering the vaccine doses from the Vaccination Centre on Monday 11 January 2021, to healthcare workers healthcare workers, fire fighters, police officers, corrections officers, personnel at the ports of entry and teachers, all of whom may be at risk for higher levels of exposure to the coronavirus.                                                                                                                                                           
Also starting next week, there will be a mobile team who will be visiting rest homes and long-term care facilities to administer the first dose of the two-dose vaccine to seniors who have given their consent."
For more information on the COVID-19 vaccination programme, visit www.gov.bm/vaccines