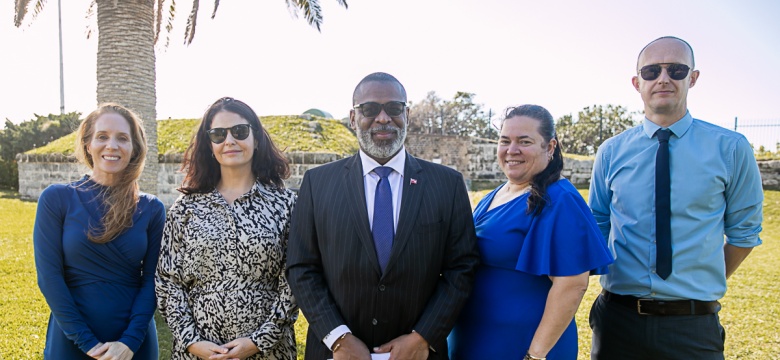 Good afternoon to all members of the media and the listening public. 
I am excited to be here at Fort Hamilton with the Department of Planning Director, Mrs Victoria Cordeiro and her team, Mr Kenny Campbell and Mrs Tamsyn Doran. We are here today to announce the release of the City of Hamilton Plan 2023 Consultative Draft, which marks the culmination of extensive research and policy development by the Department of Planning.
Before continuing further, the public must understand that this document is for consultation. We designed it to allow as much feedback as possible from members of the public and other stakeholders. Comments received as part of this initial consultation exercise will be used to shape the Plan as it progresses through the various phases of the plan-making process towards adoption. 
To be clear, this is the earliest stage in the process and the first opportunity to influence the document's content. Therefore please read the Plan alongside the supporting information and share your feedback.
The release of this Consultative Draft Plan represents a new method of preparing land use plans in Bermuda. We have adopted a 3-stage plan-making process, creating increased opportunities for meaningful public engagement. Introducing another phase to the consultation process will increase public participation and create a framework that provides greater scope to resolve any issues early in the process. Furthermore, the Plan is being released as a non-operative document, meaning that planning applications will continue to be determined against the existing City of Hamilton Plan 2015 until there is a fully adopted new plan. Again, this process helps to ensure that an operative Plan will only be in place following a rigorous public consultation, and we are satisfied that everyone has had the opportunity to contribute.
As set out within the accompanying City Survey Report 2023, in preparing this consultative draft, the Department collected a wealth of statistical information and conducted detailed analysis of some of the issues currently affecting the City. However, we also considered worldwide issues affecting towns and cities to identify common trends and lessons we can learn. The most consistent and unsurprising finding is the seismic shift towards online retailing, which has taken place over the last twenty (20) years, and the crippling effects this has had on the vitality and viability of commercial centres around the world.
There is widespread global recognition that the long-term vitality of town and city centres will require much more than retail activity. And so many major cities worldwide are fundamentally changing what town and city centres aspire to be. We have found that 15 per cent of ground-floor properties within the City of Hamilton are vacant, with some areas averaging notably higher vacancy levels. There is increasing concern about the vacancies on Front Street and Reid Street, which are our prime shopping locations. These trends indicate that the City of Hamilton is impacted by the same issues occurring in other jurisdictions.
This Consultative Draft Plan seeks to play its part in addressing these complex issues in several ways. Firstly, similar to the North East Hamilton Local Plan 2022, the Plan proposes a discretion-based approach to decision-making. Planning decisions will be made by balancing all relevant policies associated with a particular proposal to reach logical, informed, balanced decisions. Not only will this provide the decision-making process with enhanced flexibility, but it will also assist in addressing those instances where the Department has no recourse and applicants must appeal. A discretion-based system which is fit for purpose and able to pivot and respond quickly to changing circumstances and emerging opportunities is vital to our success. This system style has been comprehensively tested in other jurisdictions, and whilst we would closely monitor how it functions in Bermuda, we are confident that this decision-making method works.
I will now provide an overview of some key elements of the Plan. The overarching theme for the new Plan is "Placemaking", a broad concept focused on creating places with a sense of identity, centred upon the issues that contribute to the human experience of places. Some key themes of placemaking include prioritising pedestrian movements, creating distinctive buildings that respond to key features within the surrounding area and creating safe and welcoming places through intelligent building design and passive surveillance.
Another key concept that supports placemakingis ensuring that those who submit design proposals understand the site and its context. Placemaking supports a design-led approach to development, and successful design solutions almost always acknowledge and respond to context. This is a vital component of the Consultative Draft Plan. We want to move away from the rigid design parameters which have controlled development in the City for many years and provide greater architectural freedom to produce exciting designs which add vitality and breathe new life into the City. We must responsibly manage this approach, and with placemaking principles at its foundation, the Plan contains all of the necessary tools to ensure this happens.
The Plan also recognises that accommodating a more diverse range of uses within the City will enhance its resilience to withstand economic shocks. Research shows that outside of bars, restaurants and cafes, there are very few permanent recreational facilities within the City. Furthermore, the City has minimal permanent cultural and artistic uses, which can be a strong draw for tourists and locals alike. Making the City a destination, rather than somewhere only visited out of necessity, is one of the key underlying objectives of the Plan and focusing on increased recreational, cultural and social activities is one way of achieving this. Adopting an informed, flexible and balanced approach to decision-making, as proposed by the Plan, can help achieve this.
I also want to recognise the importance of high-quality public spaces to increase investments and make the City a more attractive place to spend time. Outdoor areas largely fall within the Corporation of Hamilton's remit, which ensuresthe City's supporting infrastructure functions effectively. The Plan requires developers to consider how it can support the Corporation's ongoing efforts to enhance the City's look, feel and function by including a community benefits policy. We have tried to ensure that the underlying ethos of the Plan aligns with much of the work being undertaken by the Corporation to support the City's economic growth. To that end, the Corporation has greatly assisted the Department of Planning in the plan-making process by providing a significant amount of the background data and information set out within the City Survey Report 2023. We are grateful for this input.
Other elements in the Plan encourage investment and development within the City by identifying four strategic development sites, which include the waterfront area. The waterfront area has immeasurable potential and, if successfully developed, could be one of the Island's finest assets in generating additional economic activity whilst also being one of the reasons why visitors want to come to Bermuda. While there are limitations to what a land use plan can initiate, it remains of critical importance that this area is recognised for its potential and that the Plan contains strategic guidance on the key considerations which should guide any proposals regarding the future development of this site. At present, the site provides for a significant portion of parking facilities in this part of the City and whilst public parking facilities are a vital component of any City, this is an underutilisation of the waterfront area and something which the Plan is supportive of rectifying.
On the topic of parking, previous plans have sought to gradually minimise the volume of parking within the City for various reasons, including congestion, dangers of vehicles exiting buildings crossing pedestrian sidewalks, and the need to utilise public transportation more to reduce carbon emissions. In the City, almost every street has on-street parking, and the Corporation of Hamilton manages many public parking lots. These lots include Bulls Head, City Hall Car Park, Par-la-Ville Car Park and Elliot Street Car Park, most of which don't operate at full capacity. Consistent with placemaking principles, we want to create a greater sense of pedestrian ownership within the City. And while retaining parking facilities within the City is necessary, information collected in support of the new Plan suggests that there is an excessive amount of land used for parking. We have even identified instances where buildings are demolished and the vacant lots used for private commercial parking. This trend must stop if we are to support the City's long-term viability and vitality. This new Plan takes a firmer stance on this issue.
Considerations around climate change are a constant theme of the Plan through:
• Inclusion of a strategic climate change policy;
• Supporting active travel;
• Requiring sustainable designs and construction techniques;
• Protecting the City's green spaces;
• Promoting renewable energy;
• Ensuring flood risk is appropriately managed; and,
• Highlighting the role landscaping can play in providing natural adaptation measures.
The Plan also introduces the concept of requiring energy statements to be associated with some development proposals. Energy statements will ensure documented evidence demonstrating that applicants fully considered the energy needs of a proposed development and took steps to minimise those energy needs through design and exploring the use of renewables.
As stated, the Consultative Draft Plan is supported by the City Survey Report 2023, and I strongly encourage anyone interested to read the Plan alongside this document to provide a better understanding of the information used to shape policy direction. The Plan and all associated information are available on the Department of Planning's website at www.planning.gov.bm. Any comments can be submitted to theDepartment at cityplan@gov.bm. Also, the option of responding to a questionnaire embedded within the storymap version of the Plan is available via the Department's website. The questionnaire is designed to garner feedback on key policy issues. This first consultation phase will run from today, 20th January, until 24th March 2023. Following the conclusion of this consultation phase, the Department will review all feedback and prepare a draft plan. Upon completion, this draft plan will also be widely publicised, providing an additional opportunity for comments to be submitted. Further details will be provided when we enter that phase.
Given that this plan marks a significant change in process and content to previous land use plans, we wanted to do something fun and different to raise awareness and generate debate about the Plan and the placemaking concept. Therefore, in support of the Plan, we will hold aplacemaking design competition. To participate,any individual or organisation must use the placemaking and design guiding principles from within the Plan to present a development concept for one or more of the strategic development sites identified within the Plan. A winner will be selected for each of the four sites. Complete details are available at planning.gov.bm.
I now acknowledge the hard work of the Department of Planning and thank them for getting the Plan to this stage, and again, I encourage anyone interested to submit your feedback. If you require further information or want to talk to someone about the Plan, don't hesitate to contact the Department of Planning. 
Thank you