Wednesday, July 21st, 2021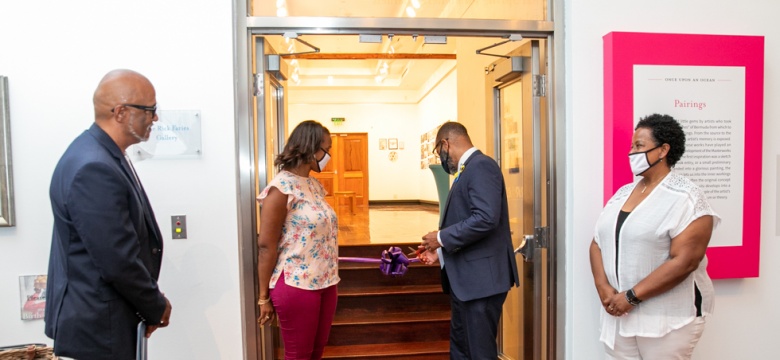 The Hon. Kathy Lynn Simmons, JP, MP, Attorney-General, and Minister of Legal Affairs and Constitutional Reform, invites the public to visit the Mirrors 5th Annual Student Art and Digital exhibit at Rick Faries Gallery, Masterworks Museum of Bermuda Art located at Botanical Gardens, 183 South Road until August 3, 2021 to cast your vote for the "People's Choice" award.  Mirrors and the Alumni & Friends Association once again partnered with the Masterworks Foundation to host the exhibit.  This year's theme is – Embracing our Differences:  Diversity and Inclusion, which gave Bermuda's budding artists the opportunity to express the creation of a Bermuda where differences are embraced and individuality is celebrated.  
Dr. The Honorable Ernest Peets JP, Minister of Youth, Culture and Sports opened the exhibit Friday evening, July 2, 2021 and stated, "The art work is phenomenal and shows imaginative creativity of our students.  It was difficult to choose one student in each category because of the quality of how students captured the theme".  Additionally, Minister Peets provided a vote of appreciation to the Mirrors volunteers at the award ceremony, hosted at Masterworks during the art exhibit opening.    
Risa Hunter of Masterworks expressed her excitement to collaborate with Mirrors for their annual Student Art & Digital Competition.  She stated, "This year's theme "Embracing Our Differences" is particularly timely as it reinforces the importance of using art as a lens for exploring identity and cultural heritage. We continue to believe that all students in Bermuda should have opportunities to connect to their inner artist and express themselves creatively".
Kimberley Jackson, indicated, "It is not only about the prizes that our schools stand to win, but more importantly it is about unearthing young talent amongst our children. We have engaged with students through this competition who expressed interest and some that discovered their passion to pursue art as a career and that fits with our overall mission of reaching one's full potential".
John Perinchief, Chairman of the Mirrors Alumni & Friends Association said, "We are delighted to be a part of such an exciting and rewarding event.  The quality of the art & digital submissions has grown from year to year.  Bermuda has so many talented young artists who have the amazing ability to express themselves through art.  I encourage all to visit the exhibit at the Masterworks Foundation Rick Faires Gallery.  You won't be disappointed".
The public can view the exhibit, from Monday to Saturday, 10:00 am to 4:00 pm until August 3, 2021 at Masterworks, to cast your "People's Choice" vote. For more information contact the Mirrors office at 294-9291 or email mirrors@gov.bm .