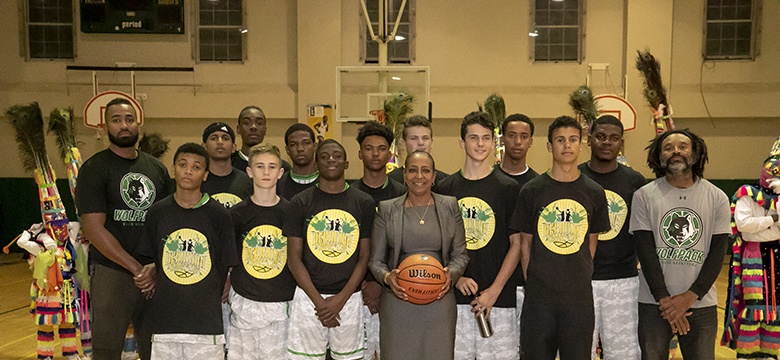 On Friday evening, the Minister of Labour, Community Affairs and Sports the Hon. Lovitta Foggo JP attended the official opening ceremony for the Bermuda Thanksgiving Basketball Classic held at The Berkeley Institute.
Competing teams included Wolfpack Bermuda; Crossroads Christian School (Illinois); Boca Raton Christian School (Florida); and Camperdown High School from Kingston, Jamaica.
Minister Foggo gave the welcoming remarks, saying, "I would like to give a warm welcome to those teams visiting us from overseas - from the United States as well as the Caribbean.  We hope you will make some fond memories of Bermuda during your time here…and that this experience will bond you all as team members and also strengthen you as individual athletes. This tournament is a fantastic way for all teams involved to get that international exposure which is crucial for growth.
"I was delighted to learn that - in addition to participating in the tournament - teams will visit local Primary Schools and hold a free basketball clinic tomorrow. I am sure that this will go far in nurturing a passion for the sport among our youth."
The Minister also thanked all of the local vendors who provided support in various ways including – the Bermuda Tourism Authority, Grotto Bay, Docksiders Pub, AES Solar, Berkeley Gym,  Butterfield and Vallis, and Jamaica Grill. The Minister concluded by thanking tournament organizer Chris Crumpler and wishing all teams luck in the weekend tournament.