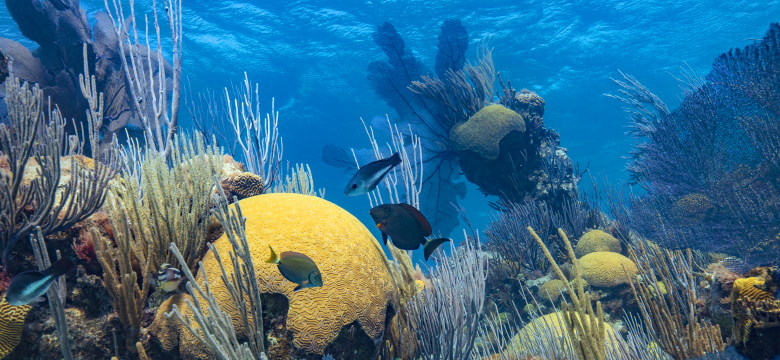 The Bermuda Ocean Prosperity Programme, a partnership between the Government of Bermuda, the Waitt Institute, and the Bermuda Institute of Ocean Sciences (BIOS), have today announced the appointment of two new coordinators - Mr. Weldon Wade and Ms. Cheryl-Ann Mapp.
"The public may recall that in June 2019 the Bermuda Ocean Prosperity Programme was created with the goal of sustainably developing Bermuda's Blue Economy while also fully protecting 20% of Bermuda's Exclusive Economic Zone (EEZ) in marine protected areas (MPAs)," said the Minister of Home Affairs the Hon. Walter Roban. "I am confident that the appointment of Ms. Mapp and Mr. Wade will further these efforts as they both bring years of experience and expertise to this vital initiative."  
Ms. Cheryl-Ann Mapp has been appointed the Bermuda Ocean Prosperity Programme's Site Coordinator. Ms. Mapp is an attorney and compliance professional with extensive advisory experience. She has held key senior executive roles and was a former Compliance Officer with the Department of Environmental Protection where she managed the Fisheries and Animal Wardens teams, advised on environmental compliance issues and facilitated relevant environmental advisory board meetings. Ms. Mapp is an industry leader who enjoys developing relationships with strategic partners to influence and effect positive change within her community.
"The Bermuda Ocean Prosperity Programme is an exciting and novel opportunity for Bermuda," said Ms. Mapp. "I am happy to be involved with this initiative and manage the collaboration between stakeholders, the Bermuda Government, the Bermuda Institute of Ocean Sciences and a recognized global environmental organization like the Waitt Institute."
Mr. Weldon Wade will take the role of Communications Coordinator for the Bermuda Ocean Prosperity Programme. Mr. Wade has been extremely active in the Bermuda diving community for over ten years with a focus on ocean advocacy, outreach and community engagement and brings over twenty years' experience in innovation and technology to his new role. Mr. Wade presently serves on numerous boards and committees and is an ambassador for several ocean-focused organizations. He was a speaker at TEDxBermuda in 2014.
"I am delighted to have the opportunity to collaborate with all partners and stakeholders to introduce much needed management and protection of our valuable marine resources," Mr. Wade said.
Bermuda's waters contain the northernmost coral reef ecosystem in the world. While boasting some of the healthiest coral in the Atlantic, Bermuda's waters face mounting pressures from human activity such as declining fish stocks, sea level rise, and a potential risk of increased tropical storms.
Through The Bermuda Ocean Prosperity Programme, Bermuda will create a binding ocean plan to sustainably manage and improve ocean industries like fishing and tourism while at the same time conserving Bermuda's waters in fully protected areas. Utilizing marine spatial planning, new inshore and offshore zones will aim to protect commercially important fish stocks, migratory routes for marine mammals, and deep-sea ecosystems like seamounts and corals while allowing for responsible development of marine industries.
Bermuda is the latest island nation in the Atlantic Ocean to protect part of their Exclusive Economic Zone (EEZ). The Governments of the Azores, Barbuda and Curaçao have recently announced similar commitments under the Blue Prosperity Coalition.