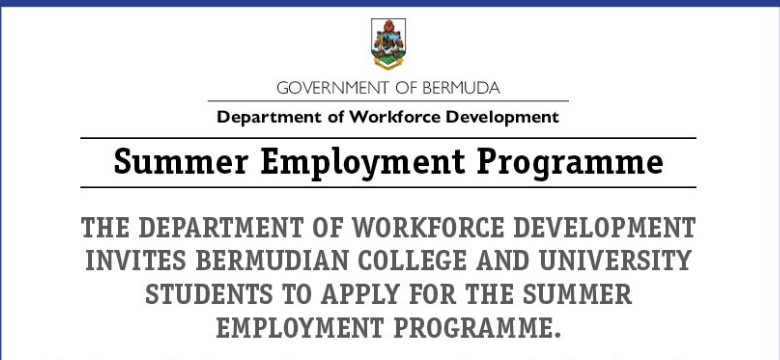 The Department of Workforce Development (DWD) is encouraging all interested college and university students to apply for the 2023 Summer Employment Programme (SEP).   
Today in expressing his support for the SEP initiative, the Minister of Minister of Economy and Labour, Jason Hayward said, "Each year, the Summer Employment Programme provides dozens of young people with amazing opportunities to apply their education and experiences in a real work environment. As part of our Youth Employment Strategy, the SEP remains an invaluable option for students still completing their education and seeking summer employment.
"Thanks to the dedication of the DWD, this programme continues to be successful, and we are extremely grateful to the many private and non-profit organisations who remain committed to developing the future leaders of Bermuda."
The deadline for applications is 22 February 2023.
To be eligible for the SEP, internship applicants must hold Bermudian status and be enrolled full-time at an accredited college or university with a minimum GPA of 2.7.  
To register, please visit www.bermudajobboard.bmand create a candidate profile. 
After creating your profile, select "Summer Student Position" under Current Job Status. Applicants should create a candidate record and attach their cover letter, resume, transcript, two written references, and verification of full-time enrolment under Supporting Documents. 
The DWD is pleased to provide the following links with Matthew Amaral, Wendall Tucker, and Osei Agyapong sharing their experience of the 2022 Summer Employment Programme.
 For additional information, phone 297-7714 or email sepinfo@gov.bm with "Summer Employment Programme" in the subject line.