Wednesday, March 28, 2018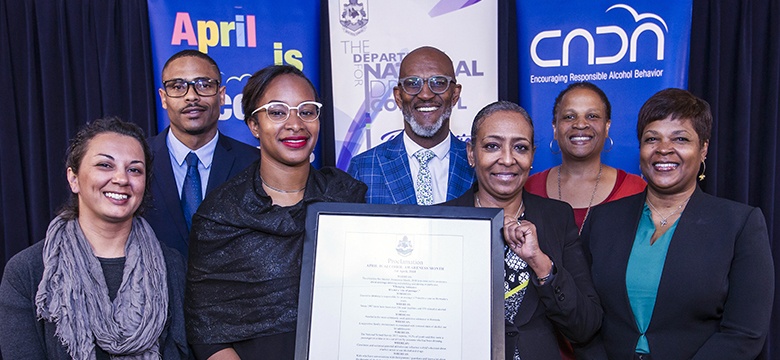 Good Morning,
I am pleased to be here today to take part in the launch of Alcohol Awareness Month. This morning I join the Department for National Drug Control under the auspices of the Ministry of Social Development and Sports, and CADA, in their efforts to increase public awareness and understanding by encouraging the community to educate themselves, especially those under the age of 18, about the dangers of drinking alcohol and the dangers of drinking and driving. 
Bermuda joins the US National Council on Alcoholism and Drug Dependence in observing April as Alcohol Awareness Month.  The 2018 theme -- "Changing Attitudes: It's not a 'rite of passage.' " -- is designed to draw attention to the many opportunities individuals, families, and the community have to educate young people on the dangers of alcohol use.
We often view underage drinking as a "rite of passage" and we sit back and hope that young people will "get through it." An alternate way would be to change our attitude and take an active role in learning about alcohol and drugs and help young people do the same.
The National School Survey 2015 on Middle and Senior School Students on Alcohol, Tobacco and Other Drugs and Health reported on the lifetime prevalence of alcohol use amongst our students.  This Survey revealed that 52% of students had used alcohol in their lifetime and 18% of our students had used alcohol within the last 30 days. The Survey also reported that 10% of the students have been in a car driven by someone who had been drinking alcohol.  These facts concerning Bermuda's youth are of grave concern to this Government and it is imperative that we address them.  Already the first quarter of 2018 has seen several accidents and several persons have been reported as under the suspicion of driving under the influence of alcohol.
Alcohol abuse and alcoholism can affect all aspects of one's life. The long-term use of alcohol can cause serious health complications; affecting virtually every organ in the body, including the brain. For teens, drinking is more harmful than adults because their brains are still developing throughout adolescence and well into young adulthood. Drinking during this critical growth period can lead to lifelong damage in brain function, particularly as it relates to memory, motor skills and coordination.
According to research, young people who begin drinking before age 15 are four times more likely to develop alcohol dependence than those who begin drinking at age 21.
Today I encourage everyone to view the month of April as a time to pay close attention to underage drinking and driving under the influence (DUI). We can accomplish this by ensuring that the young people in our lives receive the necessary education and resources to make informed choices when it comes to alcohol.  We can be an advocate for change by ensuring that alcohol consumption is not allowed at youth centered events and by making a stand to hold youth event planners accountable for ensuring that alcohol is not accessible.    
The long term effects of alcohol abuse puts a strain on the health care system, negatively impacts emotional stability, finances, careers, families and relationships.  As a community, let us "Change our Attitudes" and embrace this year's theme that alcohol mis-use and abuse "is not a 'rite of passage'."
Our community must foster healthy and responsible attitudes towards alcohol use, by modelling positive behaviors as it relates to alcohol use; by talking openly and honestly, and showing young people that their opinions and decisions about the use of alcohol are important and can be life altering. We cannot simply sit back and hope that our children will "get through it." 
In closing, As the Acting Minister for the Ministry of Social Development and Sports, I, along with the rest of the Government of Bermuda, am committed to taking a role in preventing underage drinking and promoting responsible drinking practices. It is our responsibility as a community to tackle this important issue, so that we can avoid more young lives being affected by alcoholism, more antisocial behaviour, inadequate school performances, and more road fatalities.  The Department for National Drug Control and CADA are on the front-line of our prevention efforts and through their work and the community's support, we will make a much needed impact.
Thank you
Alcohol Awareness Month Proclamation 2018