Social Renewal & Economic Recovery
Working together to move Bermuda beyond the pandemic.
Through the ages, historians and scholars have written countless volumes dissecting events and citing certain periods as "definitive" for the story of a century, a generation or an era. When the story of this third decade of this 21st Century is written, it will no doubt be an account of how the nations of the world were humbled by an invisible enemy, an enemy against whom our only defence was to defy the very social interaction we require to thrive.
Bermuda and her people have fought this fight and have suffered great loss: loss of life, loss of health, loss of employment. The wounds inflicted by the global pandemic have been felt by every family, and the entire island mourns the loss of life and prays that those seriously ill will improve. The economic havoc wrought by the need to restrict people's movement and work will stress public and private finances for years to come.
The Government is determined to drive the change Bermuda needs, by implementing Bermuda's Economic Recovery Plan and delivering on the election pledges endorsed by voters just over one year ago. Bermuda's Economic Recovery Plan has 31 priority projects in 7 broad categories: Economic Diversification; Financial Markets; Infrastructure Investment; Expanding the Residential Population; Labour Market & Social Development; Healthcare Reform; and Regulatory Reform. The successful execution of these initiatives will ensure that the island is prepared to meet the inevitable shocks that will accompany the period following the COVID-19 pandemic. Read the full Throne Speech 2021.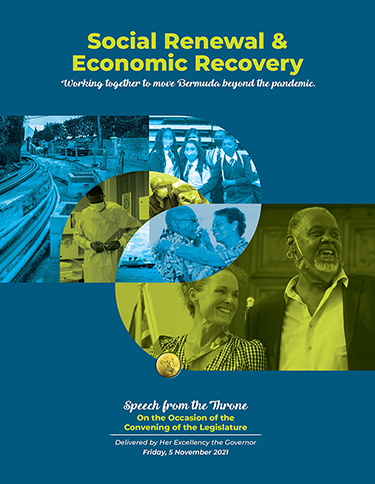 Speech from the Throne
On the Occasion of the Convening of the Legislature
Delivered by Her Excellency the Governor