Since March 2020, the coronavirus pandemic has severely impacted Bermuda's economy. While decisive action by the Government of Bermuda has largely protected the country on the health front, the island's community will continue to experience economic challenges brought on by the pandemic.
While economic challenges are being faced globally, bold decisions are being made by the Government of Bermuda as we continue to navigate this unprecedented period.
This Economic Recovery Plan ("ERP") responds to the urgent need to safeguard and secure our economic future. It aims to combine fiscal responsibility with a clear path to growth, employment and greater economic equity.
The full Summary Report of the ERP can be found below.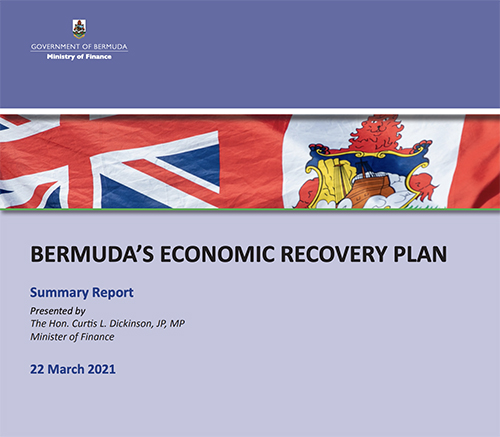 Key Elements of the Economic Recovery Plan
A three-phased approach to the development of the ERP has been taken.
Preparatory work in Phase 1 involved identifying the objectives, the guiding principles and a preliminary list of initiatives; and was undertaken from July through September 2020.
Phase 2, involving developing economic models, prioritising initiatives, and creating an implementation plan, was undertaken from October 2020 to February 2021.
Phase 3 involved the development of a 'blueprint' ERP with a detailed plan supporting the effective and efficient implementation with appropriate Cabinet oversight.
In parallel to the ERP, Bermuda will continue to move forward with planned educational reforms and other social policy measures, assessing possible areas for tax and pension reform, as well as additional government initiatives to support the vibrancy of Bermuda's international business sector.
Ministerial Statement: Establishment of the Economic Recovery Plan (ERP) Project Management Office (PMO)
Honourable Members will recall responsibility for the implementation of the Economic Recovery Plan transferred to the Ministry of Economy and Labour in February of this year.   In March I reported to this Honourable House the Government had identified four lead initiatives – the rehabilitation of Tyne's Bay infrastructure; the development of Uptown Northeast Hamilton; the development of the Casino Industry and the development of Vertical Farming.  KPMG had been charged with working with stakeholders to deliver detailed action plans setting out key milestones, timelines, and actions. Read more …
e.g. energy regulatory sandbox, digital/FinTech, marine development zone.