Monday, November 15th, 2021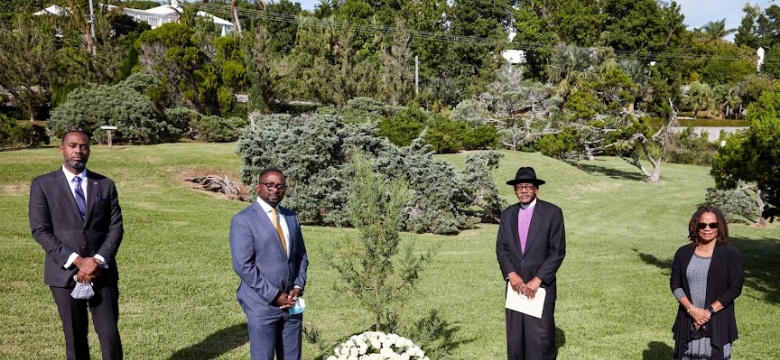 Last Friday (November 12), Premier David Burt and the Minister of Health, the Hon Kim Wilson, JP, MP, honoured the 106 residents lost to the coronavirus by planting a Bermuda Cedar Tree in their memory.

The short tree-planting ceremony was held at the Botanical Gardens, near the 911 Memorial.

Premier Burt said, "We've lost more Bermudians to the COVID-19 pandemic than we did in both World Wars. On Remembrance Day, we took time to reflect on those who served, and last Friday, we took time to remember those we've lost to this deadly virus and the families who mourn the loss of their loved ones."
Minister Wilson added, "We paused to reflect and pay tribute to the 106 people who have died after contracting the coronavirus. Many families, friends, and colleagues have been left to mourn their loss. Indeed our entire community mourns their loss.
"The cedar tree planted commemorates Bermuda's coronavirus victims, and I encourage the public to visit the site to pay tribute to them and have a quiet reflection."
Also in attendance at the tree-planting ceremony were Bishop Vernon G. Lambe Sr., who opened the ceremony with a short prayer, and the Chief Medical Officer, Dr. Ayoola O. Oyinloye, who laid a wreath along with Minister Wilson of 106 yellow roses next to the cedar tree.