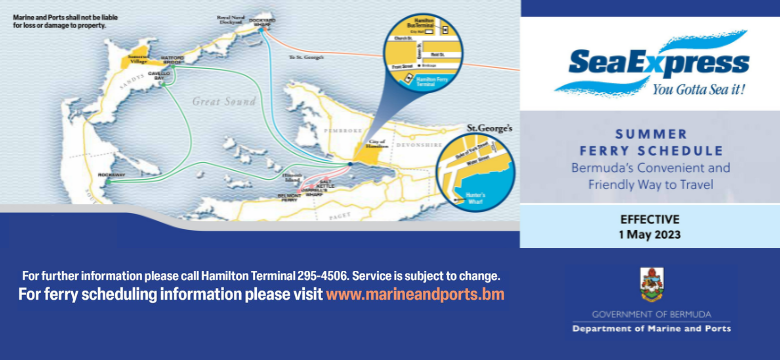 The Department of Marine and Ports Services summer ferry schedule will commence on Monday, 1 May 2023.
As the summer months get underway, the Department reminds the public that the ferry service remains a viable option for public transportation.
As recently stated by the Minister of Transport, the Hon. Wayne Furbert, "Marine Port and Services ferries are an efficient, cost-effective and scenic way to travel throughout the island. The funding allocated in 2023/24 for the new schedule will continue to provide passengers with increased travel flexibility during the week and weekends.
Minister Furbert added, "With over 200 cruise calls scheduled for this year, the Department has increased services and staffing to provide an efficient ferry service for visitors and residents. The Orange Route (St. George's) will operate on days when cruise ships are in port overnight at Dockyard. This year, we anticipate an additional 32,000 passengers will use the ferries to visit the town of St. George. This is an estimated 45% increase in cruise passenger foot traffic to St. George from the 2022 visitor numbers. As discussed last month with St George's area residents, the Ministry has committed to reviewing the Orange Route ridership numbers based on the demand during the season.
"The new and extended schedule for the Pink Route signifies the Department's commitment to ensure the community receives the necessary transportation."