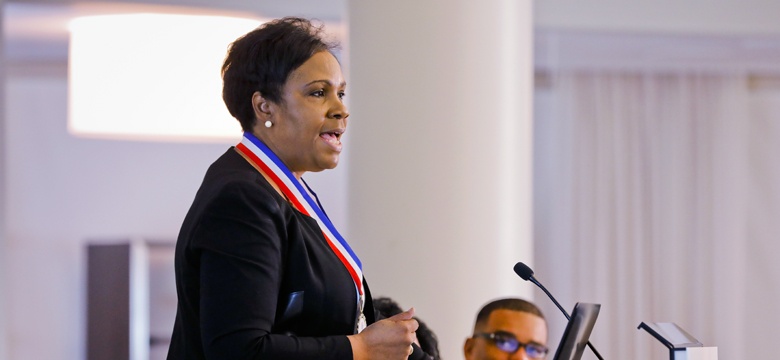 TN Tatem Middle School parent and staff representatives have indicated, via a letter to Ministry and Department of Education leaders, that parents and staff still have concerns about the school building.
Ministry and Department of Education leaders received a letter on the evening of Monday, 8 April, 2019 signed-off by the Parent Teacher Student Association (PTSA) President and the School's Health and Safety Coordinator.  The letter stated that staff and students have "grave concerns about the health of the learning environment" and a request was made that testing be conducted in rooms and meeting spaces for air quality and levels of mold; and for repairs to be carried out.  There was also a request for alternative learning venues to be provided.  A response to the letter was requested by noon on Wednesday, 10 April, 2019.
Shortly after 8:30 am today,  Tuesday, 9 April, 2019, Department of Education officials were notified by parents that staff and students were on the recreation field at TN Tatem.
Upon receiving this information, a Department of Education leader was assigned to attend the school to meet with and listen to the concerns of school representatives.   All staff and the remaining students were asked to report to Purvis Primary School, a school within walking distance of TN Tatem, for the remainder of the school day.
The Minister of Education, the Hon. Diallo Rabain also met with staff while they were at TN Tatem and he also attended Purvis Primary to listen to them further.
Minister Rabain, Minister Simmons, the Permanent Secretary of Education, the Commissioner of Education, Director of Academics, and the Facilities Manager met with TN Tatem Acting Principal, Ms. Shernelle Turini; the Health and Safety Coordinator, Dejah Denbrook;  PTSA President Albert Wilson and the Cabinet Safety and Health Coordinator to listen to concerns and to determine next steps.
On Wednesday and Thursday of this week, M3 students will report to Purvis Primary school; M2 students will report to Heron Bay Primary School; and M1 students will to report to Paget Primary to continue with their educational programme.   
Public schools are closed on Friday, 12 April , 2019 for the Annual Exhibition.
Students should attend their respective sites with a packed recess and lunch.  Parents must give their children clear instructions for the after school  dismissal  plan,  specifically students who will be at Paget Primary as the Bus route is different.
All afterschool programmes, which normally take place at TN Tatem, have been cancelled for the remainder of the week.
Tomorrow, the Cabinet Safety and Health Officer will carry out inspections at TN Tatem in the morning, and conduct a training session with staff after school.
When it comes to health and safety, The Ministry and Department of Education are taking the concerns raised by teachers and parents very seriously. Any time the health of our students, teachers and staff is potentially at risk, and the learning of our children is disrupted, we have an obligation to listen, assess and take the appropriate action.
We also thank the leaders and staff of Purvis Primary, Heron Bay and Paget Primary for opening their doors to the staff and students from TN Tatem.