Tuesday, March 15th, 2016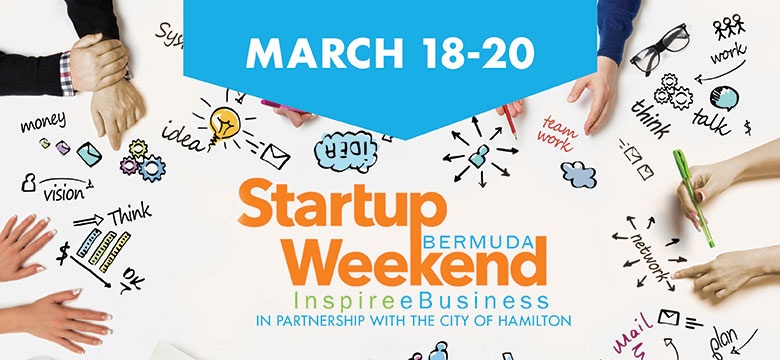 Startup Weekend is back and will be taking place on March 18-20, 2016 at Pier 6 in Hamilton. Over the course of the weekend, teams will take innovative business ideas from concept to launch!
Startup Weekend is a globally recognized, non-profit, community-building event that is open to entrepreneurs of all backgrounds. Throughout the dynamic and high-energy weekend, participants form teams and develop their respective business idea into a solid business plan for a company or project. The weekend is a technology-infused three-day frenzy of business model creation, coding, design, and market validation.
Coaches, most of whom are local entrepreneurs and subject matter experts in their own right, are available throughout the weekend to assist the participants as they test their ideas Ethan Bagley (Startup Weekend California) will also be in attendance as a facilitator. Ethan is back after facilitating the first Bermuda Startup Weekend Bermuda in May 2015. Ethan stated, "I am so excited to be able to come back to Bermuda to help bring the participants' ideas into reality. I know that those who participate will have a life-changing experience."
The event culminates on Sunday with presentations to an audience of judges and potential investors. Prizes will go to first, second and third place teams. Prizes for the winning teams have graciously been donated by local companies and entrepreneurs who support the local entrepreneurial ecosystem including: City of Hamilton, Department of E-Commerce, Zaire Lowe Designs, Connectech, 1st Choice Audio, Mediaville, Gear & Gadget, Bermuda Forwarders, Cosmic, Barritts, K.I.M.S List, Oxygene, Bernews, Tops Ltd., Fireminds, Beach Boys, DHL, Ming & Co., Hott 107.5 and other service providers.
Deloitte, the Babson Alumni Club of Bermuda, Bermuda College, Bacardi, WEDCO, Washington Mall, Freisenbruch-Meyer, Argus, Exclusive Events and many others have supported the event in many ways, notably by providing scholarships for participants.
Get your Startup Weekend Bermuda tickets today!  The fee covers great local food, access to exclusive resources from event sponsors, and free swag bags! There are still sponsored spaces available. To learn more and to register, visit www.inspireebusiness.bm,  email e-commerce@gov.bm  or call 292-5570.