Wednesday, October 19, 2016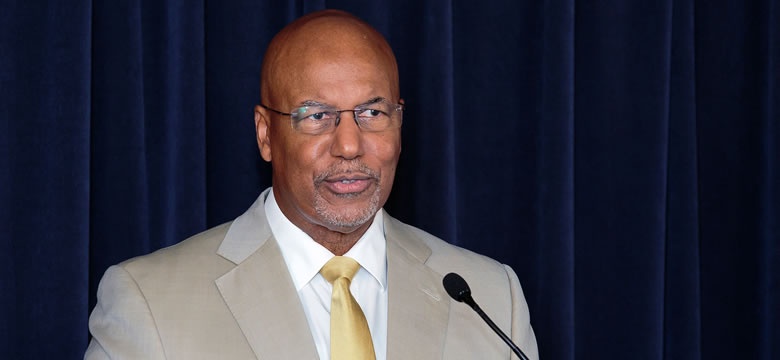 As announced on Friday September 30th 2016, the Bermuda Government conducted meetings with domestic and international investors to provide an update on economic/fiscal developments in the country, and also as part of its process of evaluating market conditions and potential funding opportunities to address its borrowing requirement laid out in the National Budget Statement for fiscal year 2016/2017.
An effective, focused and well-timed roadshow by the Government across Bermuda, Europe and the United States successfully informed a variety of potential investors, and as a result the subsequent transaction attracted healthy demand from some of the world's top investors. The transaction closed today.
Given the receptive context for new US$ debt issuance and the low prevailing base rates, the Government has taken the opportunity to not only finance the fiscal 2016/17 budget deficit of $199.4 million, but also to refinance a $200m, 5.0% loan facility and engage, concurrently with the new issue, a targeted liability management transaction strategically aimed at repurchasing some of our outstanding higher-coupon bonds. The refinancing of the $200m, 5.0% loan facility, due in 2017, will now result in interest savings of $1.8 million for the Government over the next 9 months and the repurchase of higher-coupon bonds will result in annual interest savings of approximately $3.8 million.
It is important to note that although the Government issued a total of $665 million in new bonds, the total amount of debt, held by the Government, will only increase by $188.9 million.
Highlights of the transaction are as follows:
On Tuesday October 11, 2016, the Ministry of Finance successfully accessed the international capital markets, placing via intraday execution, a US$665 million "long" 10-year bond offering due January 2027. 
This resulted in a record low yield; a coupon/yield of 3.717%, representing the lowest-ever for Bermuda (42 basis points "bps" less than Bermuda's former tightest coupon).
A record low spread; the spread of US Treasuries of + 195 bps, marks a record low spread and 30 bps tighter than the Government's previous issuance.
A concurrent Partial Tender Offer significantly reduced near term maturities; US$276 million of the US$500 million 5.603%, 144A/Reg S maturing in 2020 were tendered for cash (only USD224 million remain outstanding).
100% of the 2020s tendered were accepted, with the 4.138% US$475 million 2023s slated for a potential future repurchase.
This was the first time in history that the Bermuda Government has conducted a tender offer and this has signaled to investors that the Government has now moved to a strategic mindset in its debt management operations.
The new issue and tender offer are expected to reduce pro-forma recurring annual interest expense by about US$5.8 million (2.8% of the current deficit)
A reduction in the Government's average borrowing cost  of 0.41% is also expected, along with a 1.7- year extension in the entire debt portfolio's average life.
In a sign of confidence in Bermuda's recovery, a quality order book developed for the new issue, totaling over USD1.7 billion (2.5x oversubscribed), which supported the transaction during the day.
Pricing moved swiftly from Initial Price Thoughts of "Low T+200 bps area" (8:40am ET), to guidance of "T+200 +/- 5 bps" (11:55am ET), ultimately launching at the tight end of guidance for T+195 bps (1:25pm ET)
A successful roadshow across Hamilton, London, New York, Boston, Los Angeles, and Germany was undertaken - of the 34 investor groups met, 24 participated, contributing a demand of close to USD750 million.
Local Bermudian investors also contributed additional demand in excess of USD100 million.
There was solid investor distribution, underpinned by the US (65%), with receptive demand also coming via UK/Europe (23%), Bermuda (7%), and Asia/Middle East (5%).
Top-quality Fund Managers and Insurance names made up 75% of the orderbook, with key Pension Funds and Central Banks making up a notable 10%.
Proceeds will be allocated to fund the tender, repurchase existing loan obligations due in 2017, and partially fund the 2016-2017 fiscal deficit.
The Government team that was involved in the Road Show was: The Hon. E.T. Bob Richards, JP, MP (Deputy Premier and Minister of Finance) and Anthony Manders (Financial Secretary). The Government team was also supported by key senior officials in the Ministry of Finance Headquarters and the Attorney General's Chambers.
This successful capital markets transaction underscores institutional investors' positive response to the Bermuda Team's narrative of the progress Bermuda has made to date, and our future plans in two distinct areas:
Progress in deficit reduction and our tax plans to make payroll taxes more progressive and yield more revenue, along with other measures already announced in our last National Budget Statement
Progress in restoring economic growth without impairing the government's credit worthiness.
The Ministry of Finance wishes to thank HSBC Bank of Bermuda, HSBC Securities (USA) Inc., and Milbank, Tweed, Hadley & McCloy LLP (the Government's USA attorney) and Simpson Thacher & Bartlett LLC (HSBC's USA attorney) for their roles as strategic partners in helping to shape a very positive outcome for the Government of Bermuda in this recent issue in the global markets.