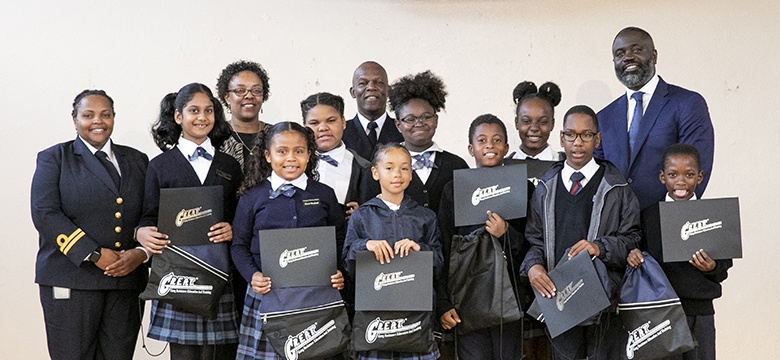 "Engaging with our young people at an early stage about the dangers of gangs, guns and violence is critical. And the GREAT programme has proven to be a vital and important partnership with our island's schools in an effort to address the issues of gang culture in our community," said the Minister of National Security, the Hon. Wayne M. Caines earlier today at the latest Gang Resistance Education and Training Program (G.R.E.A.T.) at Prospect Primary.
During this morning's event, Minister Caines presented 10 primary six students with certificates for completing phase one of the program, which is led by Customs Officers Heather Hollis, Willis Dill, Lalisha Simmons, and Tomika Harrell.
Prospect Primary now joins Victor Scott, Somerset Primary, West End Primary, Paget Primary, Northlands Primary, and West Pembroke Primary who have had GREAT graduations during the academic year.
Today's recipients were:
Tharusha Amarasinghe
Savion Benjamin
Teresa-Rose Burchall
Aniyah Gardiner
Mycah Maragh
Jai Simmons
Isaiah Trott
Jahziah Wade
Makeila Wainwright
Zion Williams
Minister Caines added, "I would like to thank all the school principals, teachers and educators for their hard work and dedication in guiding our young people through this incredibly meaningful programme. As I have recently shared, we are working hard to protect our neighbourhoods, families and young people against the ravages of gun and gang activity. Our Gang Violence Reduction Team continues to partner with the Ministry of Education, Bermuda Police Service and other community organisations to provide support services and deliver prevention programs.
"As we continue implementing the Ministry's Gang Violence Reduction Strategy in our high schools, we are providing programs and support to students and families such as incident management support; mediation services; individual student support sessions; and group sessions. We are also in the process of delivering a 10 week pilot Excellence Programme with a focus on incident mediation, understanding risk levels, and encouraging self-reflection and introspection at Cedarbridge Academy. Our intent is to start a similar program at the Berkeley Institute."
Minister Caines concluded, "Today, is a good day and each of the students who completed this phase of the programme should be proud of their achievement. I look forward to recognizing the next successful group of young people who are currently engaged in this programme."
Group Photo (l-t-r): From Back Row – Officer Lalisha Simmons, Principal Holly Richardson, Officer Willis Dill, Minister Wayne Caines and certificate recipients

-ENDS-
Background:
The G.R.E.A.T. program is a joint initiative between the Ministry of National Security, H.M Customs, Bermuda Police Service and the Department of Education. It is an evidence-based, effective gang and violence prevention program built around law enforcement officer-instructed classroom curricula within schools. The program is intended as an immunization against anti-social, youth violence, and gang membership for children in the years immediately before the prime ages for introduction into gangs and anti-social behavior.
The program has been educating public school students in the Primary Six and Middle One year groups. Over the 2017-2018 academic school year, the program trained 513 students in 22 Schools (4 Middle Schools and 15 Primary Schools) and continues to rotate through the public school system.
In addition to the G.R.E.A.T. Program, frequent interactions with the primary and middle school administration and guidance departments have identified potentially at-risk students. Intervention plans have been put in place to ensure that these students steer clear of anti-social behavior.
The team also delivers a 12 week pilot program for boys at Elliot Primary School that focuses on:
Building Self Confidence;
Positive Relationship Building Skills;
Knowing Your Worth;
Teamwork; and
Building Resilience.