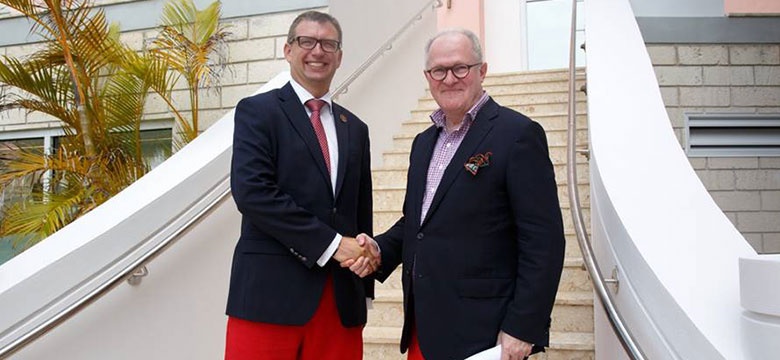 The Hamilton Princess & Beach Club announced the completion of its $100-million, three year renovation project that has re-positioned the island's oldest and most famous property. The hotel will open its new, 5400-square-foot spa on July 5th but is already boasting a host of upscale amenities.
The Tourism, Transport and Municipalities Minister, Senator the Hon. Michael M. Fahy JP commented that just surveying the substantial improvements was enough to make him realize that the visionary approach of the Green Family had been fully realized as a success.
He said, "I and other Government Ministers had been invited to a presentation over three years ago by the designers, architects and engineers to see the vision that the Green Family and the Princess Group had for this facility. We all knew that it was quite a dream.
"If you build it, they will come.
"I must send hearty congratulations to the Green family for their dream, which in my view they have absolutely fulfilled.
They have poured in an awful lot of investment and that I believe will actually pay off for an extended Bermuda tourism product."
The Minister said that the significant investment into the Princess Hotel has led to other Bermuda hotel investment, which altogether has put Bermuda back on the map for tourism.
He said, "This hotel redevelopment at the Princess  was on the cards prior to Bermuda securing The America's Cup which promises even more for this resort to take advantage of the opportunities.
"This puts us back on the map for first class resorts and first class opportunities with a  first class product.
(Photos show the Minister with hotel general manager Allan Federer, and the property after its re-fit.)