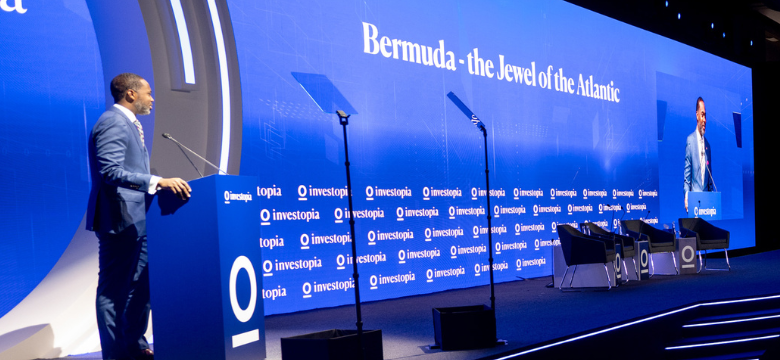 Premier David Burt travelled to Abu Dhabi, United Arab Emirates to attend the Investopia 2023 at the invitation of H.E. Abdullah Bin Touq Al Marri, the Minister of Economy for the United Arab Emirates (UAE). 
At the conference, the Premier met with the UAE Minister of Economy, the Chair of Abu Dhabi Global Markets, H.E. Ahmed Jasim Al Zaabi, the Minister of State for Foreign Trade, H.E Dr Thani Al Zeyoudi and had an audience with H.E. Khaldoon Al Mubarak Managing Director and CEO of Mubadala.
Accompanying the Premier and Minister of Finance on this trip was Mr Barclay Simmons, Chairman of the Bermuda Public Funds Investment Committee. 
On the second day of the two-day conference, the Premier delivered a keynote speech entitled 'Bermuda-the Jewel of the Atlantic' where he spoke of his desire to strengthen ties between Bermuda and the UAE while highlighting the similarities between the two jurisdictions.
 Premier David Burt said: "It was an honour to be invited to Investopia 2023 by the UAE Minister of the Economy, His Excellency Abdullah Bin Touq Al Marri, and to share Bermuda's story with leaders in the region as well as to highlight the many similarities between our countries.
The conference has been beneficial in raising the profile of investment opportunities in Bermuda from this region, whether it is insurance, renewable energy, hospitality or infrastructure. I look forward to deepening the relationships between the UAE and Bermuda."
 Premier Burt will leave Abu Dhabi tomorrow morning to return to Bermuda on Sunday.