Tuesday, February 23, 2016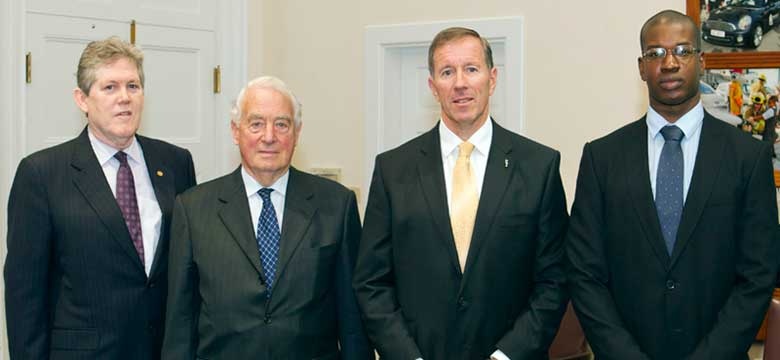 Good morning, last December I announced Government's intention to establish a Commission of Inquiry to investigate the findings of the Auditor General's Report on the Consolidated Fund for the Financial Years 2010, 2011 and 2012.
At the time, I stressed Government's grave concern with the report's findings – a concern that has been echoed throughout the community. The report described serious problems of accountability and control in the administration of the public purse.
The most serious area of concern was government failure to obey its own Financial Instructions, which exist to impose financial controls consistent with international best practice and uphold principles of accountability, value for money, fairness and transparency.
Because of these and other findings, I deemed it necessary as Premier to enact a Commission of Inquiry.
The Commission is being formed under the authority of the recently amended Commission of Inquiry Act 1935 and, after several weeks of careful planning to ensure all the elements were in place, I am pleased this morning to introduce the members of the Commission.
They are:
Commission Chairman Sir Anthony Evans
Lawyer the Hon John Barritt, JP
Businessman Mr. Kumi Bradshaw, and
Businesswoman Ms. Fiona Luck.
The Commission will start its work on April 1st.
Before then, the Commissioners will be sworn in and take an Oath under the Act.
I'd like now to talk briefly about each of these individuals and their qualifications and experience for this important and challenging inquiry:
Sir Anthony Evans is a former Chief Justice of the Dubai International Financial Centre Courts. He has extensive experience as an arbitrator with particular emphasis on international commercial arbitration. Before being appointed as judge, Sir Anthony practiced as a barrister, specializing in commercial cases. He became Queen's Counsel in 1971 and a Recorder of the Crown Court in 1972.
From 1984 until 1992, Sir Anthony was a High Court Judge in England and Wales, where he regularly sat in the Commercial Court. Sir Anthony was Lord Justice of Appeal in London from 1992 until his retirement in 2000. Sir Anthony is quite familiar with Bermuda, having served from 2003 to 2014 as a member of our Court of Appeal. Currently he is the Chairman of the Dubai World Tribunal.
The Hon. John Barritt JP is certainly no stranger to you. He has had an incredibly distinguished career as a litigator and parliamentarian. He joined MJM Limited in 2004 as a Consultant Attorney following his retirement as a partner from the law firm Appleby Spurling & Kempe.
Over the course of his legal career, Mr. Barritt has specialized in criminal, civil and commercial litigation. He has appeared before the Courts of Bermuda at every level and, for various periods of time, served as an Acting Magistrate.  Mr. Barritt is also a former member of the Bermuda Legislature, having served as an elected Member of Parliament in the House of Assembly from 1993 until 2011.
Mr. Barritt is widely recognized as a keen proponent of political and parliamentary reform and continues to advocate for reform and good governance.
Mr. Kumi Bradshaw is a Certified Business Appraiser and Business Valuator Accredited for Litigation. He holds a Bachelor's degree from Dalhousie University and an MBA from Babson College.  
Mr. Bradshaw is the President of Firm Advisory Ltd., a company that provides its clients with advice on making better business value decisions. Prior to his role with Firm Advisory Ltd., Mr. Bradshaw operated an independent business appraisal practice from 2007 to 2011. His experience includes assisting clients across a breadth of industries with advice on business purchase/sale transactions, shareholder disputes, litigation, economic damages and estate planning.
Rounding out the Commission is Ms. Fiona Luck.
Ms. Luck served as Executive Vice President and Chief of Staff at XL Group plc from June 2006 until June 2009 and then as Special Advisor to the Chief Executive Officer until January 2010. From 1999 to 2006, she served in various roles at XL, including as Executive Vice President of Group Operations and Interim Chief Financial Officer.
Ms. Luck is currently a member of the Board of Directors of Gen Life Ltd and Gen Two Ltd., and a member of the board of the Bermuda Monetary Authority, where she serves on its Audit & Risk Management Committee, its Human Capital Committee and its Non-Executive Directors Committee.
Ms. Luck previously served on the board of directors of Catlin Group Ltd from August 2012 until its merger with XL in May 2015 where she was Chair of the Compensation Committee and a member of the Audit, Investment and Nomination Committees. Ms. Luck is also a member of the Institute of Chartered Accountants of Scotland. 
This is a high-calibre Commission with extensive legal, financial and governance experience.
The Commission will operate under the following Terms of Reference:
Identify breaches of Financial Instructions and how they arose;
Consider the adequacy of safeguards and the system of accountability;
Make recommendations to prevent recurrences and to mitigate financial, operational and reputational risks;
Refer any evidence of possible criminal activity, which the Commission may identify, to the Director of Public Prosecutions or the Police; and
Draw to the attention of the Minister of Finance and the Attorney General any scope, which the Commission may identify, to secure recompense under the Public Treasury Act, including Financial Instructions, and Civil Asset Recovery.
The Government has great confidence in the Commission's ability to fulfil its mandate as outlined in the Terms of Reference, and we have taken care to ensure its independence throughout the process.
The next steps for the Commission will be to assemble its own counsel, which will be appointed by the Chairman. The Commission will have the power to summon witnesses, examine them under oath and call for the production of documents.
Before closing, it is important to stress that if we are to continue to uphold and protect standards of governance that serve the public interest, then we need to address issues that challenge those standards as they arise. This is the rationale behind the formation of this Commission of Inquiry.
In closing, I want thank each of these individuals for agreeing to serve in this matter of national importance.
Thank you.