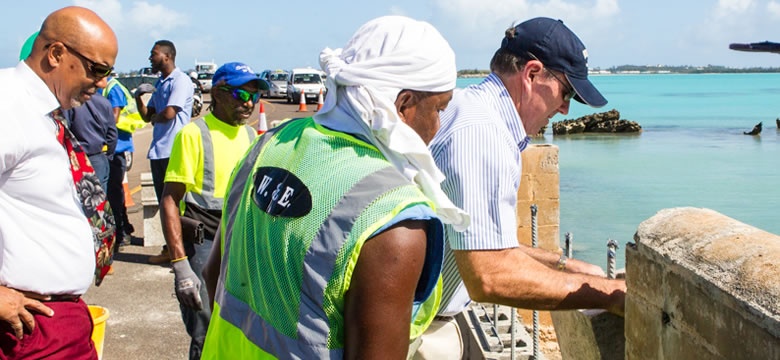 Post Hurricane Nicole Remarks
by
The Hon. Michael H. Dunkley JP, MP
Premier of Bermuda
14 October, 2016
Bermuda is strong… Bermuda is resilient... and Bermuda is blessed. 
That is the Island-wide sentiment after having come through Hurricane Nicole.
In a few moments the Minister of National Security, Commissioner of Police and Director of the Bermuda Weather Service will provide an update regarding Government services, public safety matters and post Nicole weather information.
But as we can see already there is some sense of normalcy returning to the Island with main road arteries being cleared, power being restored, damaged property being repaired and businesses reopening. 
Since the passage of the storm tremendous progress has been made. 
However there is still work to do and services to be restored and I expect that will continue into the weekend.
At this time I wish to take this opportunity to extend my sincere thanks and appreciation to the Minister of National Security Sen. Jeff Baron, Commissioner of Police Michael DeSilva and the entire Emergency Measures Organization for their fearless guidance during what was undoubtedly a very anxious and tense time for our island.
These men and women, across many different organizations, rode out the storm away from their families. They did this to ensure the safety of us all and for that they deserve our sincere gratitude.  
The consistent messages of preparedness and public safety certainly resonated with our community and that helped tremendously in ensuring there was no loss of life, serious injuries and with our ability to recover so quickly. 
Finally, I must commend the people of Bermuda for our perseverance and strength as we prepared to face Hurricane Nicole.
I had an opportunity to visit parts of the island earlier today and it made me so proud to see Bermudians out and about doing their part to get their homes, neighbourhoods and Bermuda back to normal.
It filled my heart with pride to see residents working together and helping one another following what was truly a very serious and dangerous storm.
Without question, we are very strong and proud people and we've weathered tough storms before; so, a special note of appreciation to the people of Bermuda for your tenacity and resilience.
As I invite Minister Baron to the microphone, I want to reassure you that the EMO is working around the clock and be assured that Bermuda will be back to normal shortly. 
Thank you Bermuda and please continue to stay safe.