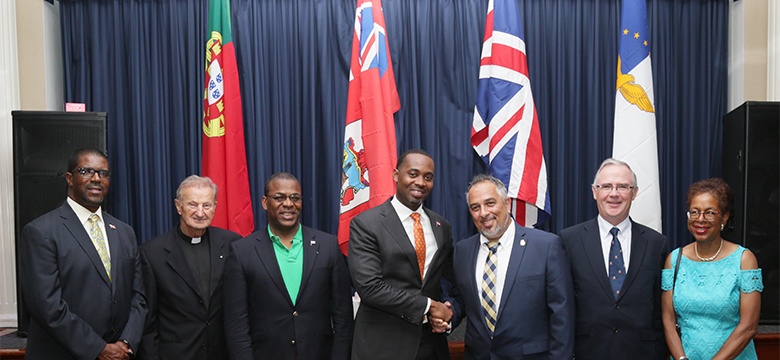 Premier and Minister of Finance The Hon. E. David Burt JP MP celebrated Portugal Day with members of the Portuguese community at the Vasco da Gama Club on Reid Street in Hamilton this weekend.
The Premier was welcomed by Club President Paul Franco (photographed shaking hands) and others for the celebration, who joined with His Excellency the Governor John Rankin; and (from left), Minister of Social Development & Sport, The Hon. Michael Weeks JP, MP; the Portuguese Priest of St. Theresa's Roman Catholic Cathedral, Father Julio Blazejewski; Deputy Premier and Minister of Transport and Regulatory Affairs The Hon. Walter H. Roban; and, (right) Opposition Leader Jeanne Atherden JP MP.
Please see the photo and the Premier's remarks below.
Good evening.
A week ago I was proud to stand before Bermuda's legislature and announce a public holiday for November 4th next year to mark the 170th anniversary of the arrival of Portuguese immigrants in Bermuda.
And today, the day before Portugal Day or the Day of Portugal, I'm happy to be with you in celebration of this holiday and Portuguese communities everywhere.
The stories of how so many people arrived here from the Azores to help create today's modern Bermuda are probably filled with much in the way of enterprising adventure.
To truly appreciate the contribution made by the Portuguese community to the development of Bermuda, one only needs to peruse the historical accounts of Bermuda business or look back over the records of Parliament to see how much the entire island has benefitted from the long history of our association.
But surprisingly, it took four centuries for one group of important figures in Bermuda's history to be recognized as Portuguese.
For 400 years, Bermudians incorrectly referred to an area of Spittal Pond Nature Reserve in Smith's Parish as Spanish Rock.
The letters 'R' and 'P' - dated 1543 - are engraved in the rock which is believed to be the earliest remnant of human recording found in Bermuda. 
The markings were noted by Bermuda's first English colonists who decided they were made by Spanish shipwrecked sailors.
As a result, it was long known as "Spanish Rock". 
But a Portuguese historian had evidence from a chronicled voyage that Portuguese sailors were actually shipwrecked here and he said the letters 'R' and 'P' were Latin for 'Regium Portuguese'  or Kingdom of Portugal. 
So finally in this century, after so many years, the site is referred to more accurately as "Portuguese Rock".
It makes you wonder about "Spanish Point".
With regard to next year's public holiday, we deliberately provided advance notice to allow for the planning of a series of related events.
We are hopeful of arranging an official visit to Bermuda of a Government delegation from the Azores and/or Madeira, and perhaps a sporting event involving a visiting team.
We will also consider a commemorative plaque, and other events.
Bermuda is made up of people from a variety of diverse backgrounds who have contributed to our growth and mutual success.
My Government is excited to highlight and celebrate 'What We Share' as a community.
Thank you.