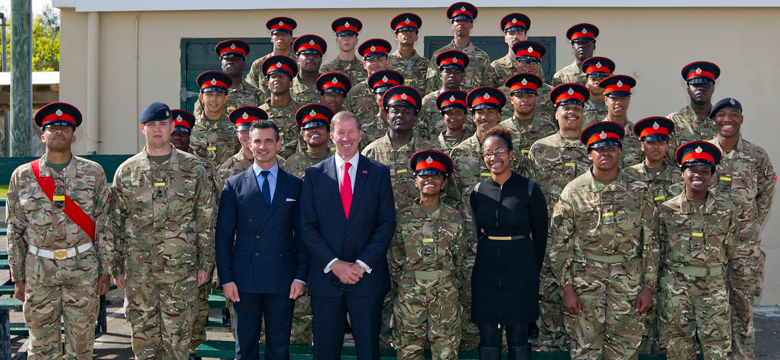 This morning, Premier, The Hon. Michael H. Dunkley, JP, MP, Minister of National Security, Senator the Hon. Jeffery Baron, JP and Junior Minister of Social Development and Sports Nandi Outerbridge, JP,MP visited the 60 volunteer recruits in the Royal Bermuda Regiment at Warwick Camp.
Premier Dunkley said, "I enjoyed meeting all the new recruits today and wishing them luck for the weeks ahead. They all had various reasons for being there - to further their career opportunities, to have a new experience and meet new people, to push themselves in ways they never have before - but the one thing they all had in common, as volunteers, was their desire to be there. Their enthusiasm and willingness to try new things shone through - past the nervousness and first-day jitters. I commend them for seizing this opportunity and acknowledge their commitment to service and the community."
Minister Baron added his thanks for the service and pledged his support throughout their career in the Royal Bermuda Regiment. As part of the visit today the Ministers met the recruits and later, during lunch, Minister Baron join in serving lunch to the soldiers.