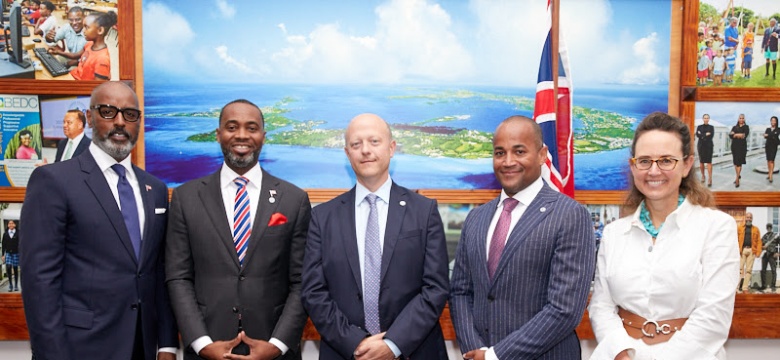 Good afternoon, ladies and gentlemen of the media. Thank you for your time today.
This afternoon I am pleased to be joined by the Minister of Finance, the Hon. Curtis Dickinson, Mr. Jeremy Allaire - Co-Founder, Chairman, and CEO of Circle; Mr. Dante Disparte - Chief Strategy Officer and Head of Global Policy and Ms. Elisabeth Carpenter - Chief Operating Officer.
All of whom will address you today.
The path to getting us to this point today hasn't been straight. The reality is that business development takes time and does not happen overnight. It also takes perseverance, hard work, and a commitment to see the plan through until the end. 
This has surely been demonstrated by the journey Circle and the Government of Bermuda has taken which now sees them officially opening on our shores.
Circle's Co-Founder and CEO, Jeremy and I met at the World Economic Forum in Davos in 2019. We discussed Bermuda's already strong and internationally recognised regulatory framework and how the Government was working to create a Fintech ecosystem that would make Bermuda the ideal location for Fintech companies to establish a physical presence.
Following that, our business development teams kept in touch, and in July 2019, Circle became the first Digital Asset Business (DAB) to receive a Class F Digital Asset Business Act 2018 (DABA) license from the Bermuda Monetary Authority (BMA).
Not long after that, the world was thrown into uncertainty by the coronavirus pandemic and many plans and objectives by Governments and businesses around the world were postponed or changed.
However, the Government of Bermuda understood the importance of continuing the work needed to put the right framework in place for more growth of Fintech in Bermuda.
In November 2020, Circle announced its plan to introduce short and medium-term high-yield interest rate business accounts built entirely on USD Coin.
In recent weeks, Circle received approval from the BMA to offer their yield interest products to business clients, becoming the first regulated crypto yield product in the world. 
And in addition to all of this, as you may have read, Circle has announced they will be taking the company public.
So here we are two and a half years from the time Jeremy and I first met, Circle is here in Bermuda, their entire leadership team is here and the next steps on this productive journey can begin. 
This is a shining example of this Government's vision for Bermuda to be a country where companies like Circle can feel free to build the future of finance, feel free to create the technologies, and build the tools that will power innovation. 
That is what we're doing, and what we have continued to do since we were elected as the Government. That has been our strategy since 2018, and we haven't deviated from that plan. As a result, we are seeing more and more companies that recognize what Bermuda has to offer, and we will continue to be a place from which companies like Circle want to do business.
We have continued  to develop a sound regulatory and legislative structure built on our reputation as one of the leading insurance and reinsurance jurisdictions.  The work that we are doing here in Bermuda is steps ahead of many other countries and larger economies around the world, and we should be proud of our ability to innovate, and to diversify our economy while maintaining our reputation as a well-regulated jurisdiction to conduct international business.
Today is a proud day for Bermuda and for Circle as they launch their internationally recognised product from right here on our island. This is something of which the world is taking note.
As I conclude, I want to acknowledge the work of the Economic Development Department, the FinTech team, and the Bermuda Monetary Authority who work tirelessly to ensure that Fintech companies interested in coming to Bermuda have the right information at the right time. 
I am now pleased to invite Mr. Jeremy Allaire to the podium.