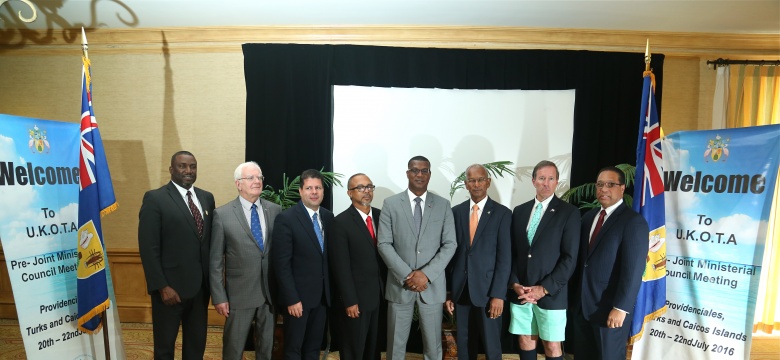 Today's (July 20) UK Overseas Territories (OT) Heads of Government Pre-Joint Ministerial Council Meeting began with an in depth discussion on the British exit from the European Union or Brexit.  
The public will be aware that Premier the Hon. Michael H Dunkley is currently in the Turks and Caicos Islands for the annual meetings, which serve as a precursor to the upcoming OT Joint Ministerial Council  meetings hosted by the UK Government in October.
Premier Dunkley said, "Today we had a good start to our discussions this week. Territory leaders agreed to engage with the UK Government at a bilateral level. We recognise  that each Territory has a different set of interests in the European Union and the most effective way to secure those interests is to engage bilaterally. At the same time acknowledge that a consultation process on the UK Government's negotiation process should  be held collectively with Overseas Territories."
The Premier explained that a brief conversation was held with officials from the UK Government who supported a bilateral approach with Territories and advised that the Joint  Ministerial Council in October will be the forum for collective political discussions. It should be noted that Premier Dunkley will be in the UK at the beginning of September to conduct a series of bilaterals with newly appointed Ministers at the level of  Secretary of State to ensure that the UK Cabinet have an understanding of Bermuda's interests in several areas.
Part of the September discussions will also centre around ensuring that members of the UK Cabinet have a full appreciation of Bermuda's economic contribution to the UK economy.
Other developments at today's pre-JMC meeting included the Premier leading a discussion on sustainable economic development, economic diversification and tourism.
Also, by way of invitation from the Turks and Caicos Premier, Dr. the Hon. Rufus Ewing, OT leaders held a special meeting with the Secretary General of CARICOM, Ambassador  Irwin Larocque.
The remainder of this week's sessions will focus on child safeguarding, financial services tax and transparency and a review of the UK-OT relationship in view of the 2012  Overseas Territories White Paper.
The Premier, who returns to the Island on Friday, is accompanied by the Secretary to the Cabinet, Dr. Derrick Binns and Kimberley Durrant, UK Representative  and Director of the London Office.
 
Photo: L to R: Hon Donaldson Romeo, Premier of Montserrat; Hon Roger A. Edwards, MLA Falkland Islands; Hon Fabian Picardo, QC MP, Chief Minister of Gibraltar; Hon Evans McNeil Rogers; Anguilla  Minister of Social Development; Dr the Hon Rufus Ewing, Premier of the Turks and Caicos Islands; Hon Dr Orlando Smith OBE, Premier of British Virgin Island; Hon Michael Dunkley, Premier of Bermuda; Hon Alden McLaughlin MBE JP, Premier of Cayman Islands.