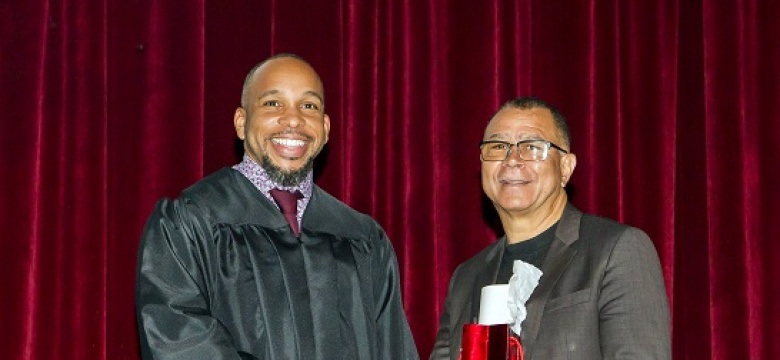 Recently, Pastor Leroy Bean and Darren Woods were presented with CedarBridge Academy STAR Awards at an awards ceremony held at CedarBridge Academy.  
The CedarBridge Academy STAR Award is presented to persons who are shining stars for young people. These are persons who love young people, work unwaveringly to support young people and go out of their away to do things to help young people to succeed.
At the event, held on February 21, Deputy Principal Timothy Sousa said, "Both Pastor Bean and Mr. Woods have been working with the newly established CedarBridge Academy Excellence Program since the beginning of the school year. The program was borne out of a need to support a group of male students through a restorative, rather than punitive approach."
"The involvement of these two community partners who answered our call to support students, is crucial to the program's success. The commitment of Pastor Bean and Mr. Woods in empowering the young men they support, is evidence that they are more than partners, they're truly family "  
In closing Mr. Sousa said, "Pastor Bean and Mr. Woods, we want you to know that your outstanding commitment to our young people is sincerely appreciated. We, particularly the students at CedarBridge Academy, value your commitment and service to our school and community. You both are Stars!"
Group Photo L-R: Deputy Principal Christopher B. Swan, Deputy Principal Timothy Sousa, Principal Kenneth Caesar, Outreach and Prevention Manager Darren Woods, Gang Violence Reduction Coordinator Pastor Leroy Bean, S3 Year Head Denise Weekes-Burke.