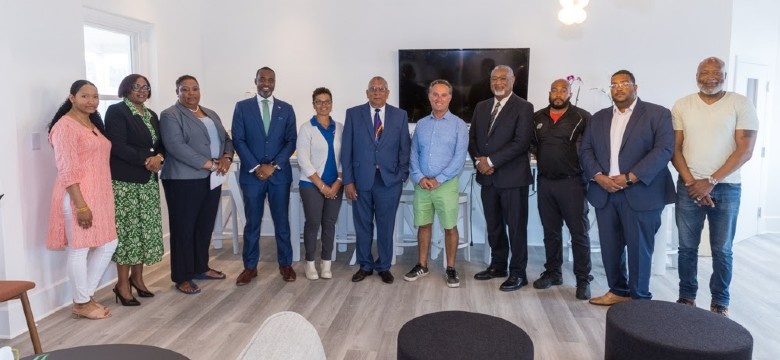 Good afternoon,
I am pleased to be here to celebrate the transformation of the wharf facility here at Ordnance Island. This project has been a long time in the making – beginning in 2012. The journey has been a long and sometimes difficult one. It has been joint effort between the Ministry of Public Works, the Corporation of St Georges and the St. George's Marina Development Ltd.
This achievement not only symbolises this Government's unwavering commitment to the superyacht charter industry but also reaffirms our dedication to the ancillary industries that thrive alongside it.
This progress is due to the introduction of The Superyachts and Other Vessel (Miscellaneous) Act 2019, which supports three categories of vessel permits – transit, cruise and superyacht charters.
Additionally, the legislation introduced updates to existing rules to accommodate various sizes of superyachts. The new regulations make it easier for superyachts to obtain permits for cruising and chartering while allowing them to stay in Bermuda without penalties for refuelling and stocking up on supplies.
The Government believes that the increase in spending by superyacht crews will only positively impact various sectors of our economy, including the retail industry, taxis and restaurants.
I'd like to acknowledge the essential efforts of Crisson Construction Limited, which spearheaded the primary dock works, D & J Construction for the renovation works to the building and the invaluable technical supervision provided by engineering consultants Brunel Limited.
The successful completion of the bow loading dock at Hunter's Wharf has paved the way for the creation of new facility where the dock has been completely rebuilt and the building extensively renovated. This facility will solidify Bermuda's desire to become a premier destination for superyachts and unlock new opportunities for local businesses, especially those in the Town of St. George.
In conclusion, I want to express my congratulations to Mr. Mark Soares and his team and wish them much success. To also congratulate the Corporation of St. George for increasing the revenue for the Town by this arrangement.
We have set a new standard for excellence in the superyacht industry. This marina and the Town of St. George can lead the way in ensuring a thriving and prosperous future for our superyacht charter and ancillary industries.
Thank you.