Tuesday, October 17, 2017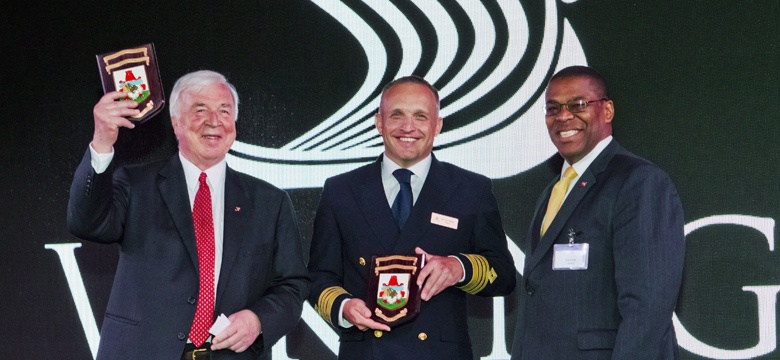 Deputy Premier and Minister of Transport and Regulatory Affairs, the Hon. Walter H. Roban led a large delegation aboard the MS Viking Sea this afternoon, at the invitation of the Founder, Chairman and Owner of Viking Cruises Torstein Hagen.
Some 40 stakeholders were invited for lunch and a tour of the Star Class vessel, docked in Hamilton, on its inaugural visit to the island.
It is the first time a Viking Cruises ship has ever sailed to Bermuda, although the company has been registered in Bermuda for two decades.
During a ceremony involving an exchange of plaques, the Deputy Premier had welcome remarks for Mr. Hagen, Viking Sea Captain Bent-Ivar Gangdal and crew.
In 2013, Viking added to their leading reputation for river cruises, by branching out into ocean cruises and launching their first ocean liner in 2015.
Following today's inaugural visit of the MS Viking Sea, Bermuda will also host two more Viking inaugural calls with the MS Viking Sky on October 31 and the MS Viking Sun on November 14.
The Viking model entails medium size, five-star design cruise vessels, together with excellent performance and comfort levels on ships holding less than a thousand passengers.