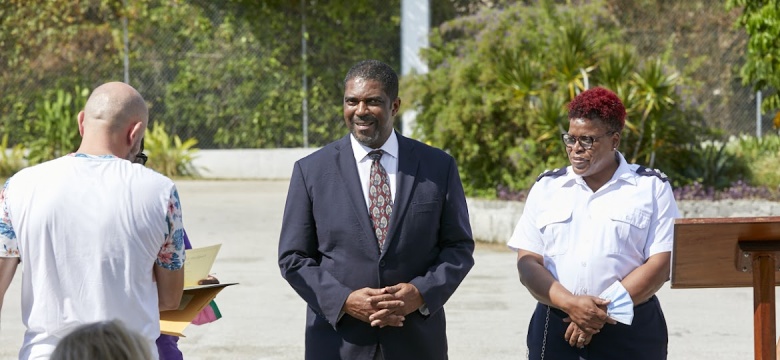 Minister of National Security, the Hon. Michael Weeks, JP, MP, was the featured speaker during the Right Living House graduation ceremony on the 14th September for four men who have successfully completed the programme located at the Co-Ed Facility in St. George's.  
The programme assists those inmates who need help battling substance abuse.  The highly structured educational and therapeutic environment requires participants to display responsible, appropriate behaviour at all times.
It started in 2010 and 82 percent of people who completed the Residential and Aftercare portions of The Right Living House programme have remained in the community for three years or longer without re-incarceration.
He told those in attendance: "Please do not give up when things get hard and don't be held back by where you came from, it matters more where you are going."
"Be proud of your accomplishments, take one day at a time, and find the strength to stay to the wicket. Work each day on your thoughts rather than concentrating on your behaviour.  It is your thinking that creates the feelings you have and ultimately your actions as well." 
"I also want to thank the men and women here at the Co-Ed Facility who work in the Right Living House Programme to make it a successful and viable option for those within the Facility looking to turn their lives around."
September is National Recovery Month, an observation in its 33rd year, having begun in the USA.
This year's Recovery Month theme is "Recovery is for Everyone: Every person, Every Family, Ev