Thursday, January 2nd, 2020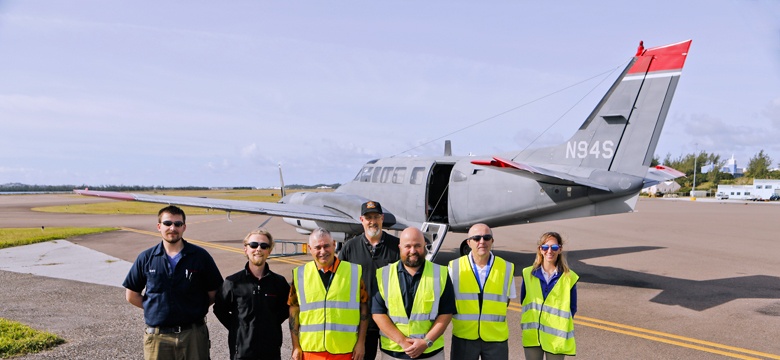 In November, the public was informed to be on the lookout for a small airplane flying at low altitude over Bermuda.  
Recently, the Minister of Tourism and Transport, Zane DeSilva, JP, MP, in his role of Acting Minister of Public Works, met with the team sent from the United Kingdom Hydrographic Office (UKHO) – Overseas Territories Seabed Mapping Programme, who have been using the same plane to conduct hydrographic surveys of the island.   
The surveys, originally scheduled to occur in November but delayed due to mechanical issues and weather conditions, are a joint partnership between the Bermuda Government and the UKHO and involves using the aircraft's survey equipment to capture water depths, land elevation, and high-resolution images of both land and sea, allowing accurate mapping of the entire local seabed.   
The survey data will be used to update and modernize the island's nautical charts to ensure safe and efficient navigation of all marine traffic, including ships in harbours and around the island.  
"This is an excellent opportunity to have a detailed survey of Bermuda conducted at no cost to taxpayers," said Minister DeSilva, "The information obtained will be vital to our efforts of achieving compliance with the International Maritime Organization's (IMO) Triple I Code and audit, to be held in December 2020".