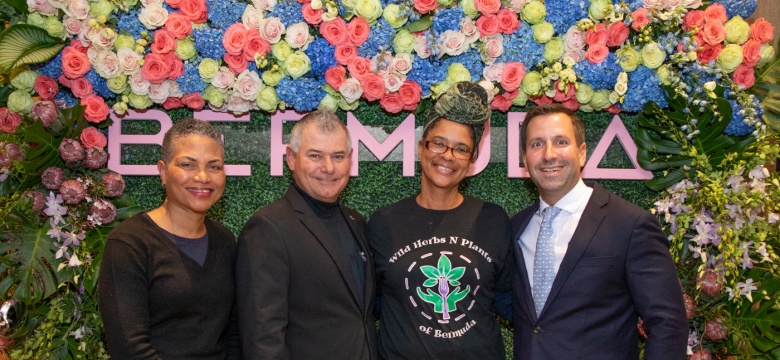 Last week, the Minister of Tourism and Transport, the Hon. Zane DeSilva JP, MP, returned from New York, culminating a series of marketing meetings, events and planning sessions.
On Monday 25th February, Minister DeSilva met with representatives from the Bermuda Tourism Authority (BTA), Bermuda Airport Authority (BAA), Bermuda Hotel Association (BHA), Skyport and other tourism stakeholders to discuss marketing plans, strategies and tactics to enhance Bermuda's tourism product and strengthen its growth.
Following this, on Wednesday 27th February, Minister DeSilva travelled to New York City to meet with the Bermuda Tourism Authority's  New York marketing and sales team and to participate in a Marketing Blitz.
The Marketing Blitz's events saw more than 150 New York City-based meeting planners, travel agents, tastemakers, media types and influencers attended a Bermuda-inspired evening reception to encourage year-round travel to the island. These Bermuda Tourism Authority-hosted events included several Bermuda creatives including:
Doreen Williams-James of Wild Herbs N Plants of Bermuda;
Stefan Gitschner from Twisted Spoon Cocktail Company;
DJ Rusty G; and local artist,
Lyn Winford.
The objective of the events were to tell the story of Bermuda's seasons through flora, sounds and island flavours. The Minister and BTA were also joined by the GMs and or Marketing Directors of Hamilton Princess, Fairmont Southampton, Rosedon, Elbow Beach and The Loren.
Minister DeSilva, said, "This series of meetings and planning sessions is instrumental in our efforts to continue seeing growth in Bermuda's tourism market. Also the Marketing Blitz events held in New York will have demonstrated to our target visitors that we are the ideal year-round destination for those seeking experiences, a quiet retreat, an island getaway, or family fun and bonding."
"Our tourism stakeholders in Bermuda and New York are doing a good job of strengthening our brand and enticing visitors to our shores."
Pictured at NoMo Kitchen in New York City are (l to r) Permanent Secretary Aideen Ratteray Pryse and Minister Zane DeSilva from the Ministry of Tourism and Transport along with Doreen Williams-James of Wild Herbs N Plants of Bermuda and Kevin Dallas, Bermuda Tourism Authority Chief Executive Officer.