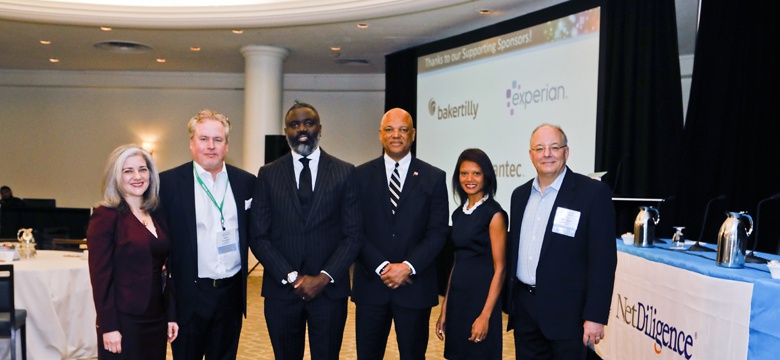 Earlier today,  the Minister of National Security, the Hon. Wayne M. Caines, JP, MP, spoke at the NetDiligence Cyber Risk Summit, held in partnership with the Bermuda Business Development Agency, at Fairmont Hamilton Princess.
The two-day summit, provided attendees the opportunity to hear from over 50 speakers in info-packed sessions and comprehensive discussions on the latest in cyber coverage and cyber security solutions.
Minister Caines participated in a fireside chat on cybercrime with Mina Martin, Partner at Norton Rose Fulbright US LLP. Among topics discussed was how the Bermuda government has made cyber security a priority for the country, the creation of the Cybersecurity Task Force and what initiatives that will form part of Bermuda's National Cybersecurity Strategy. Minister Caines spoke about Bermuda's proactive approach to cyber security with the creation of a Cybersecurity Governance Board and the development and implementation of strategies to help ensure Bermuda remains a secure place to do business.
At the conclusion, Minister Caines said, "This was a great opportunity to speak at the NetDiligence Cyber Risk Summit as it gave me the opportunity to highlight the steps Bermuda is taking to ensure that businesses and critical information infrastructures have the necessary protection."
"The international community will know that Bermuda continues to be a secure place to live and conduct business."
Group Photo l-r: Heather Osborne, NetDiligence Director of Global Events & Programming, Mark Greisiger, NetDiligence President, Minister Wayne Caines, Andy Burrows, Bermuda Business Development Agency, Mina Matin, Partner at Norton Rose Fulbright, and Dave Chatfield, NetDiligence Vice President & Chief Operating Officer.
ABOUT NETDILIGENCE
NetDiligence is a privately-held cyber risk assessment and data breach services company that conducts cyber risk assessments for a broad variety of organizations, including public entities, financial services, retailers, software developers, medical providers and universities. For more information, please visit https://netdiligence.com/