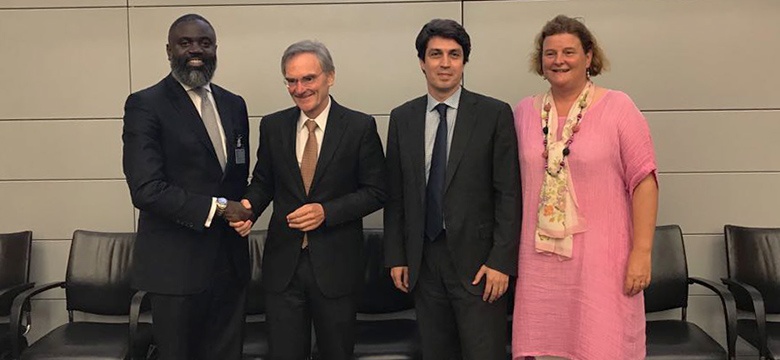 The Minister of National Security, the Hon. Wayne M. Caines, JP, MP, is currently representing Bermuda at the Organization of Economic Co-operation and Development (OECD) to share the Bermuda perspective on regulation at a special roundtable on digital assets.
Minister Caines – who was invited by the OECD to its Paris, France headquarters – addressed the prominent gathering earlier today at the event entitled: 'Roundtable on Digital Financial Assets: Actions and Approaches'.
Minister Caines was invited to participate in the 'Regulatory Issues and Approaches Session', which was moderated by Greg Medcraft, Director, Directorate for Financial and Enterprise Affairs, OECD. The Minister joined international regulators from organizations such as FATF (Financial Action Task Force) and the IMF as well as governmental, corporate and technology leaders from around the world for the one-day session.
The panel explored the key regulatory and policy issues, and the actions and approaches currently being adopted at the country and regional level. It also sought to identify what further actions may be needed to achieve public policy objectives, including market integrity, consumer protection, privacy, cyber-security, financial stability, and anti-money laundering (AML)/counter-terrorism financing (CTF).
Today's roundtable follows on the heels of a successful OECD Workshop in May which brought together experts from academia, industry, central banks, financial regulators, and international organizations. The workshop assessed emerging developments in digital financial assets and identified opportunities and challenges, including crypto-currencies and tokenised assets issued through Initial Coin Offerings. Today's roundtable reviewed issues identified in May and consider what actions and approaches will be needed at the national and international levels to ensure digital assets have a positive impact on financial markets.

Minister Caines said, "Bermuda has captured the attention of global leaders in blockchain technology and the field of fintech because of an innovative raft of legislation that prioritises compliance on multiple dimensions, has a demonstrated history as a consistent and reliable jurisdiction and has led the charge in digital asset legislation.  I look forward to joining leaders in the field and showcasing Bermuda's approach to building a framework for this new class of asset with our Initial Coin Offering legislation as well as the Bermuda Digital Asset Business Act."
OECD Minister Caines - July 5 2018