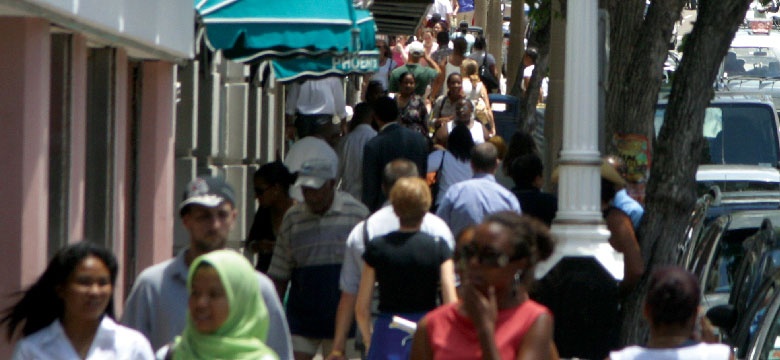 Today, the Minister of Economy and Labour, the Hon. Jason Hayward, JP, MP, released the March 2022 Consumer Price Index publication from the Department of Statistics.
The Minister explained, "The Consumer Price Index (CPI) is a statistical tool used for measuring the rate of inflation and changes in the general level of prices of consumption of goods and services by private households. The index measures price movements of a given quality and quantity of goods and services. The combination of goods and services comprising the index is figuratively referred to as a 'shopping basket'."
The shopping basket includes thousands of selected goods and services organized by commodity and service type and then divided into sub-components and assigned to one of nine major expenditure groups:
Food;
Rent;
Clothing & Footwear;
Tobacco & Liquor;
Fuel & Power;
Household Goods, Services & Supplies;
Transport & Vehicles;
Education, Recreation Entertainment & Reading; and
Health & Personal Care.
"In March 2022, consumers paid 2.5 per cent more than they did a year ago for the same shopping basket of goods and services."
Minister Hayward added, "The Transport & Foreign Travel sector continued to be the most significant contributor (+7.9 per cent) to the twelve-month increase in the CPI. On average, annual increases were reported in the cost of overseas hotel accommodations (+50.3 per cent) and airfares (+7.9 per cent)."
"The Food sector reported increases in the cost of top round beef (+29.3 per cent), frozen spare ribs (+28.8 per cent), red grapes (+27.2 per cent), imported lettuce (+20.9 per cent) and apples (+13.6 per cent). Within the Education, Recreation, Entertainment & Reading sector, reading materials such as magazines, books and newspapers rose 16.3 per cent year-over-year.  In addition, entrance fees to sporting events increased 5.7 per cent."
"Between February 2022 and March 2022, the average cost of goods and services in the CPI increased 0.4 per cent."
Additional areas of note between January and February 2022 are as follows:
Ø  The Education, Recreation, Entertainment & Reading sector grew 1.7 per cent in March in response to an increase in the cost of the local newspaper (+25.0 per cent). 
Ø  The Transport & Foreign Travel sector rose 0.7 per cent for the month.  Price increases were reported for the average costs for overseas hotel accommodations and overseas car rentals. Both categories were up 8.8 per cent.
Ø  Food prices inched up 0.2 per cent in March.  On average, items contributing primarily to the increase were vegetable juice (+13.5 per cent), canned tuna fish (+7.9 per cent) and milk (+3.3 per cent).  The rise in prices in the food sector was tempered by the decline in items such as red grapes (-6.7 per cent), frozen broccoli and spinach (-6.6 per cent) and sweet biscuits (-6.4 per cent). 
Ø  The Health & Personal Care sector decreased 0.1 per cent for the month. On average, price declines were reported for COVID-19 at-home antigen tests (-17.4 per cent) and self-prescribed medicines & household medical supplies (-0.2 per cent).  
As part of Bermuda's decennial Household Expenditure Survey, the current CPI basket of goods and services is derived from 2013, which collected income and expenditure patterns and levels for all residents. This set April 2015 as the current reference point of Bermuda's shopping basket.
In response to a request from the Department of Statistics (DOS), in June 2022, the Caribbean Regional Technical Assistance Centre (CARTAC) conducted a technical assistance mission to improve the CPI. The mission included designing and conducting a Household Expenditure Survey (HES) to estimate expenditure weights.
During this exercise, CARTAC advised that international best practice had shifted to where household expenditure surveys should be conducted every five years instead of ten and recommended data collection over 12 months to capture seasonal spending habits better.
It is anticipated that the DOS will commence data collection on a New Household Expenditure Survey within the next 12 months. However, a revised CPI "shopping basket" and expenditure weights will not become available until approximately two years after the data collection is completed, which will see the base year shift from 2015 to 2025.
*Note: In summary, each month, the Government measures the annual rate of inflation and the monthly rate of inflation - annual rates are changes from the same month last year, and monthly rates are the changes from the previous month. The March 2022 Consumer Price Index is available online at www.gov.bm/bermuda-business-statistics