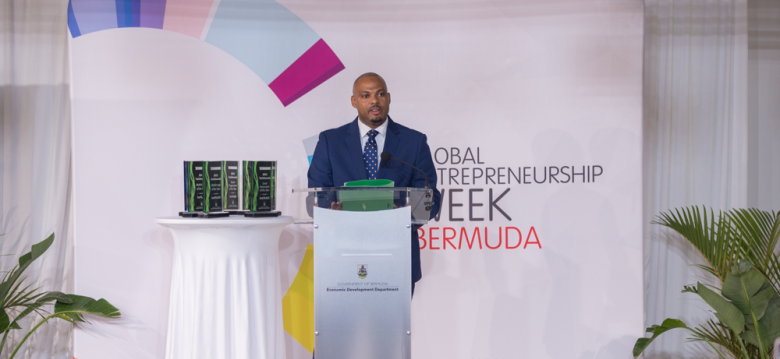 Recently, Bermuda's annual TechAwards competition hosted by the Economic Development Department showcased Bermuda's remarkable pool of high-quality tech talent.
Minister of Economy & Labour, the Hon. Jason Hayward, JP, MP, extended his congratulations to all the nominees and winners who, over the past year, had demonstrated an unwavering commitment to excellence and a belief in technology's boundless potential.
Since 2007, the TechAwards competition has become a beacon of innovation. This year's event, like every year, brought together a diverse range of remarkable projects and initiatives that have the power to shape the Island's future.
Nominations for the TechAwards were launched in the summer, and qualifying nominees presented their solutions to a judging panel that included Selica Blackwood, Kevin Richards, Sean Stapely, Shaun Richards, Laura Lyons, Nick Mueller, Lorenzo Burch, Jerome Wilson, Jamillah Lodge, Nevine Lewis, Michael Simmons, and Sean Reel. Their expertise and dedication ensured a fair and rigorous evaluation process, contributing to the credibility and integrity of the TechAwards.
The winners of the 2023 TechAwards in each category are:
Local Innovation of the Year:
1st Prize Winner: Paradise Mobile's telecommunications and mobile service product.
Image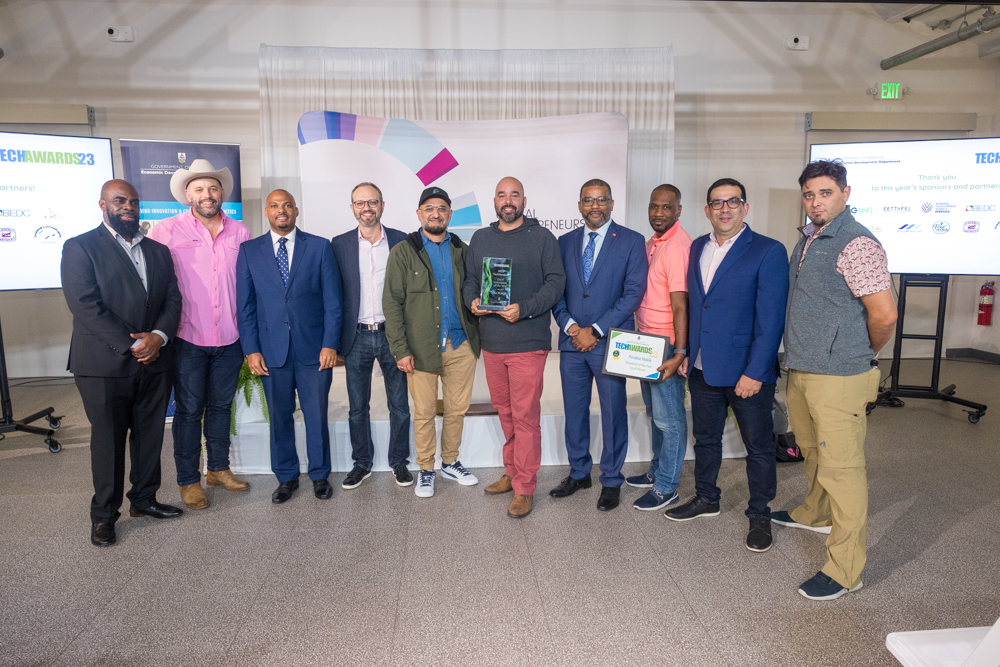 2nd Prize Winner: Mosaic Insurance's AI-Based Web Portal for Complex Specialty Insurance.
Image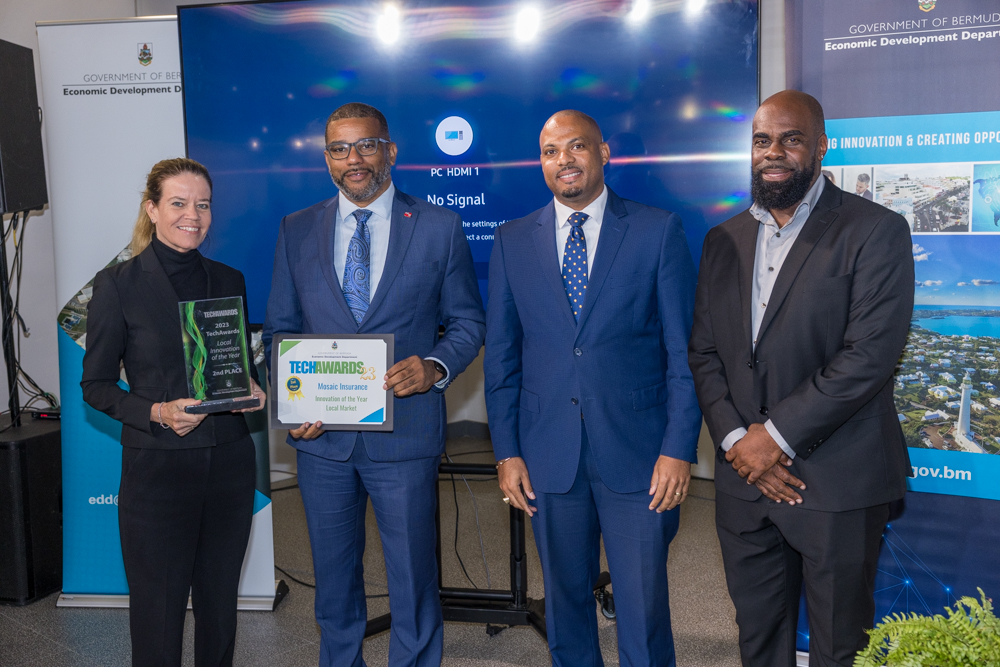 Mobile Application of the Year:
1st Prize Winner: The Department of Health for the Healthy People Bda App
Image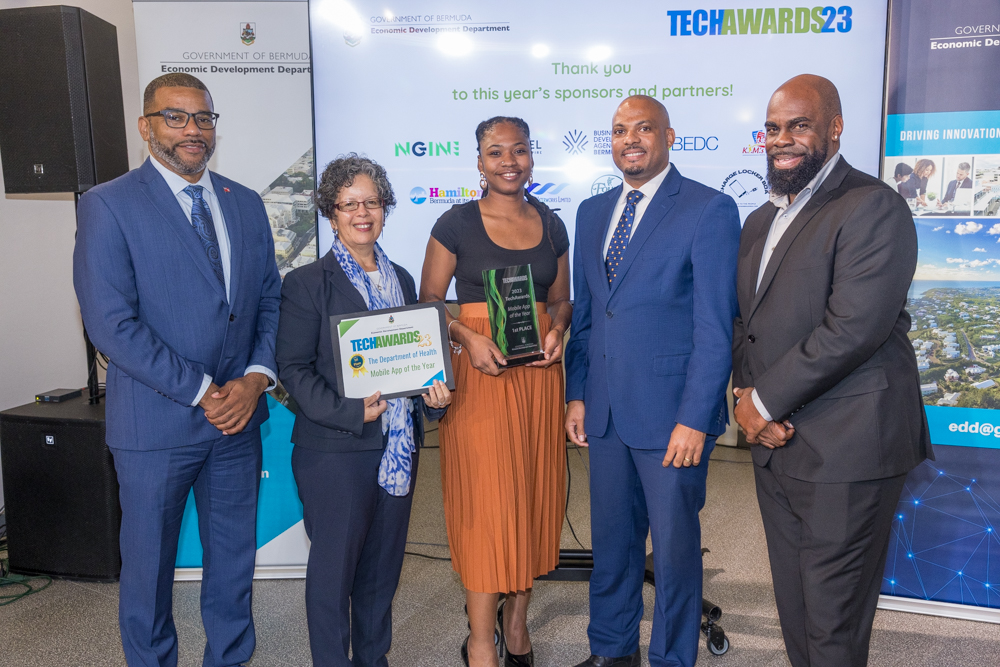 2nd Prize Winner: Bermuda Island Games for the Hidden Gems of Bermuda 2 Video Game
Image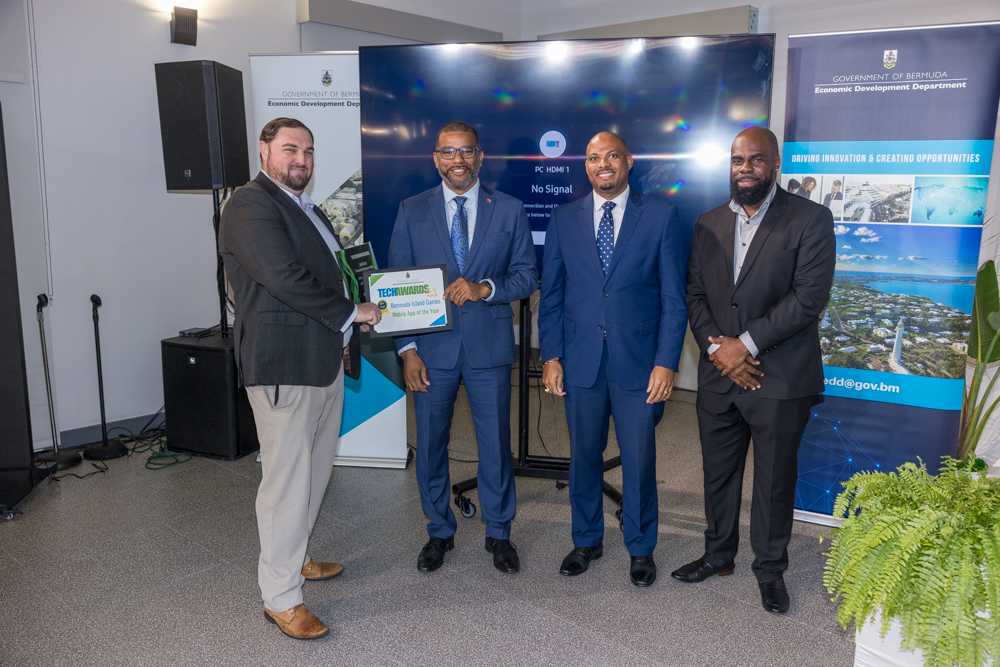 Most Innovative Youth Project or Youth Programme:
1st Prize Winner: Kids Digital Wellness' DigiRoo
Image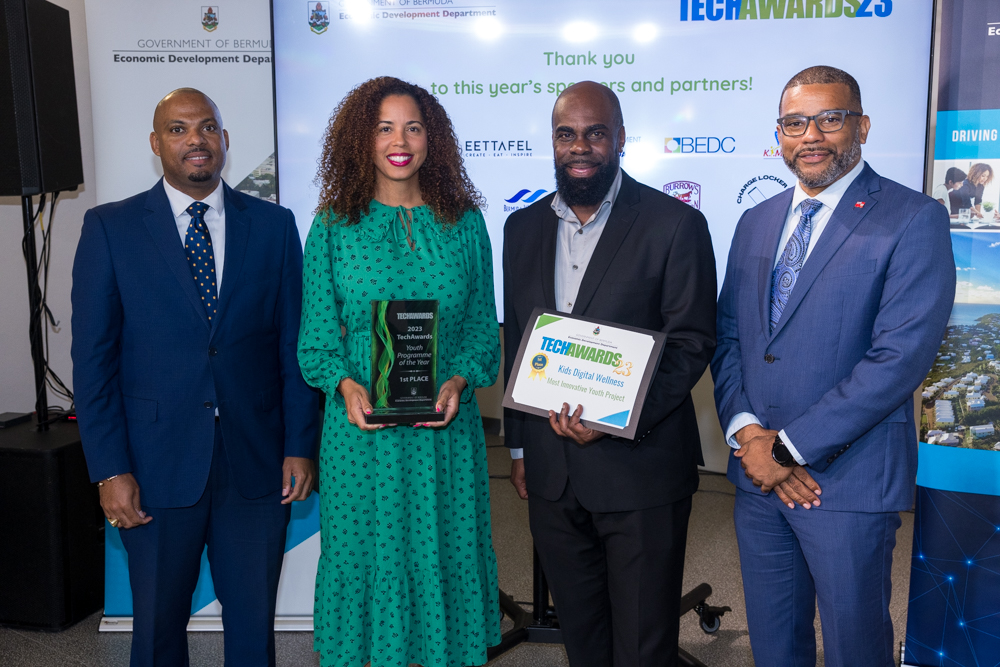 2nd Prize Winner: Bermuda Island Games for its Video Game Development Programme
Image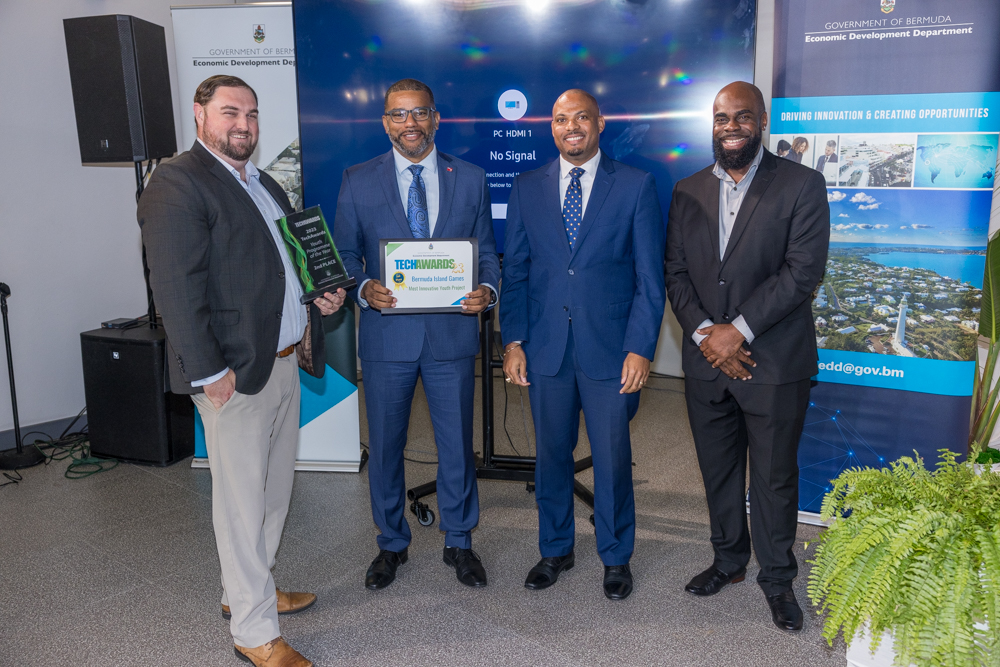 Lastly, the Most Innovative Trailblazer Award is a specific category presented by the Bermuda Business Development Agency (the BDA). Among the specially nominated innovators, it selects a Bermuda-based company that uses new technologies to conduct international business, actively participates in the Bermuda marketplace and uses the Island as a test bed for further development. This year's winner of the Most Innovative Trailblazer Award was Connectech.
Image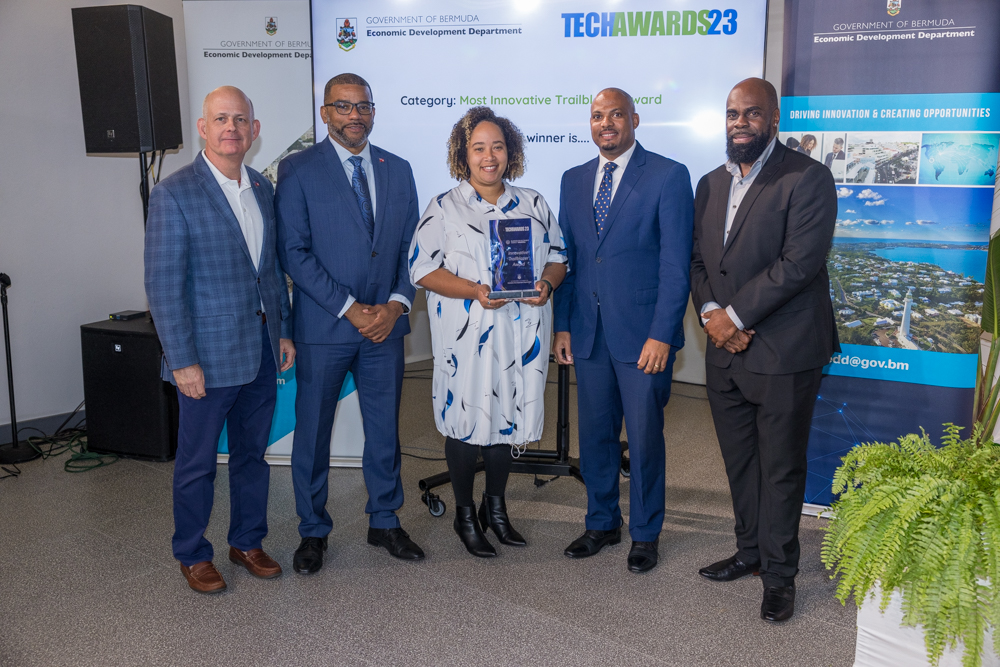 The Minister of Economy and Labour, Jason Hayward, congratulated all the winners, stating, "Your achievements reflect an unwavering dedication, creativity, and forward-thinking mindset and set a remarkable example for others to follow and have undoubtedly impacted our Island's technological landscape significantly." The Minister also thanked the dedicated EDD team who makes this celebration possible every year.
Said Ray Jones, Director of the EDD, as he addressed the TechAwards winners, "The judges did not have an easy task of selecting the winners among you – that's a testament to your excellence, skill, and ingenuity." He continued, "I urge you to continue pushing the boundaries of what is possible. The world needs your problem-solving, innovative spirit, and determination."
Mr Jones also thanked the event's sponsors, Ingine, Burrows Lightbourn, Bermuda Waterworks, and Charge Locker, for their invaluable support in making TechAwards a resounding success. He also thanked the EDD's partners for the event, EETTAFEL, Four Ways Inn, KIM'S list, the Corporation of Hamilton, and the BEDC for their collaboration and support.
About the Economic Development Department (EDD):
The EDD facilitates exploring innovative trends and developing appropriate policies and frameworks in support of Bermuda's economic development and diversification goals. The EDD also provides a wide range of services, education and training to drive economic diversification and growth and to promote Bermuda as the optimal jurisdiction for business across various industries.
Alien Land Licensing: The Alien Land Licence Programme was established to protect land in Bermuda for ownership of persons who possess Bermudian status by –
(a) requiring restricted persons to have licences to hold or acquire land in Bermuda and preventing them from appropriating it;
(b) requiring trustees to have licences to hold or acquire land in Bermuda 
for the benefit of restricted persons and preventing them from appropriating it; and
(c) preventing corporations from acquiring or holding land in Bermuda unless they do so following Legislation.
Business Services Division: The Business Services Division solidifies relationships with inbound interest as guided by the Economic Recovery Plan. It is also responsible for the Incentives for Job Makers and the Alien Land Licensing Processes.
The Office of FinTech: The Office of FinTech is responsible for accelerating the growth of Bermuda's FinTech ecosystem by advancing business development.
E-Commerce Advisory Board: The E-Commerce Advisory Board is a statutory Board ("ECAB") created under Section 30 of the Electronic Transactions Act 1999 ("ETA") to advise the Minister about matters relating to e-commerce in Bermuda. ECAB comes into effect upon publication in the Official Gazette each year and serves until the end of that calendar year.
The Standard for Electronic Transactions was appointed under subsections 29(3) and 29(5) of the ETA.
Communications, Education and Compliance: The CEC section works to develop a sustained, informed, skilled, and connected talent pool for Bermuda to propel the jurisdiction as it works to consolidate its position as a global leader in tech and Fintech.
Concierge Services & Engagement Division: The CS&ED provides concierge services to Bermuda's inbound investors by streamlining and expediting government processes.
Incentives for Job Makers: Companies can obtain the Concession of having their senior executives responsible for the continued presence of jobs for Bermudians in Bermuda, exempt from needing a work permit. Successful applicants will be exempt from needing a work permit, and their families will be granted permission to reside with them.
Research & Legislative Support Division: The R&LSD assists with public and private legislative initiatives intended to improve product and service offerings.